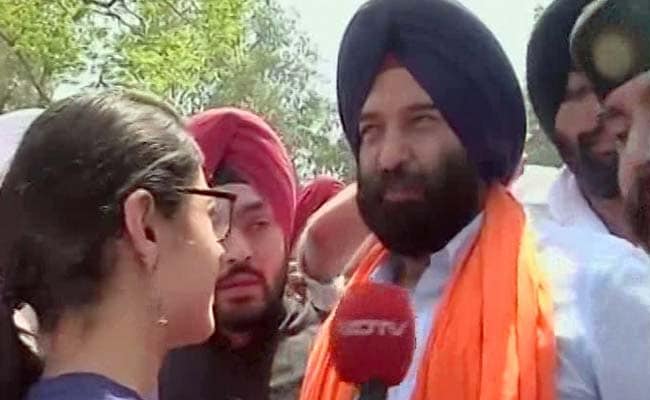 New Delhi:
The BJP leaders, who had been on a hunger strike at the Delhi secretariat, ended their protest today after Chief Minister Arvind Kejriwal and his ministerial colleagues called off their sit-in at the Lieutenant Governor's office.
Leader of Opposition in Delhi Assembly Vijender Gupta, BJP lawmakers Manjinder Sirsa and Jagdish Pradhan, West Delhi lawmaker Parvesh Verma, and rebel AAP legislator Kapil Mishra sat on the dharna on June 13 demanding that Mr Kejriwal and his ministers resume work and address the water crisis faced by Delhi people.
Barring Mr Pradhan, all of them started hunger strike from June 15. Mr Gupta had to be hospitalised earlier in the day due to falling health.
Mr Sirsa, Mr Verma and Mr Mishra broke their fast in the presence of Union minister Harsh Vardhan who visited them at the Delhi secretariat.
Mr Gupta claimed victory, saying the chief minister and his cabinet colleagues were forced to end their "meaningless" dharna due to "stern warning" of the High Court and struggle of opposition leaders.
"Many congratulations to people of Delhi. Our struggle as well as stern warning from HC has borne fruit with CM @ArvindKejriwal ending his meaningless dharna & returning to work. Everyone except him was seen working in the Delhi Secretariat today, including AAP ministers," Mr Gupta tweeted.
Earlier, Mr Kejriwal called off his nine-day-old dharna at the office of Lt Governor Anil Baijal, demanding him to direct IAS officers to end their "strike" and approve doorstep ration delivery scheme.
The development came with Deputy CM Manish Sisodia and minister Satyendar Jain resuming work after they were discharged from hospital.
The IAS officers who had been boycotting meetings of AAP government ministers today started appearing in the meetings called by Mr Sisodia and other ministers.
The officers' protest was kick-started by an alleged attack by AAP legislators on chief secretary Anshu Prakash during a late night meeting at Mr Kejriwal's residence on February 19.