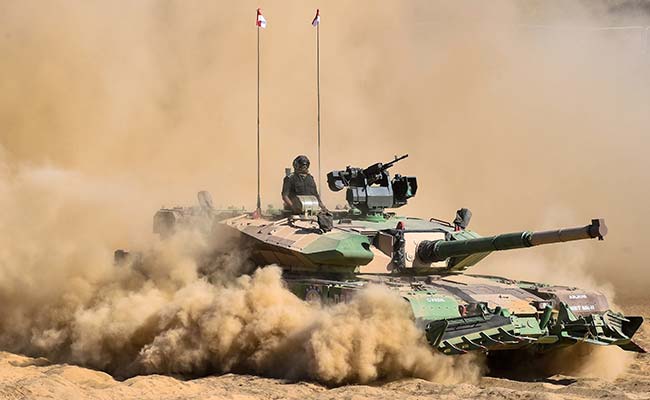 Mahabalipuram:
Prime Minister Narendra Modi is in Mahabalipuram today and inaugurated the DefExpo 2018. He inaugurated the 'Make in India' pavilion at the DefExpo. The exhibition began yesterday with Defence Minister Nirmala Sitharaman launching the event. Not only is DefExpo India's main defence exhibition, it is Asia's biggest international land, naval and internal homeland security systems exhibition. Major global and domestic military firms are showcasing their latest weaponry and platforms at the DefExpo 2018, eyeing a slice of the lucrative military market in India which is the world's biggest arms importer.
This year however, India is looking to focus more on exporting military equipment, keeping in line with Prime Minister Modi's 'Make in India' initiative. The NDA government is trying to project the 10th edition of the biennial event (DefExpo) as the first serious attempt to transform India into a hub of military manufacturing and pursue its goal of achieving a turnover of 1,70,000 crore rupees in military goods and services by 2025 by promoting the domestic defence industry.
Prime Minister Narendra Modi
reached Mahabalipuram - the venue of the DefExpo - at 10:20 am.
Here are the highlights from the DefExpo 2018 and the launch of the 'Make in India' pavilion by Prime Minister Narendra Modi:
DefExpo 2018: Boeing Joins Hands With HAL, Mahindra For Manufacturing Of F/A-18 Hornet
Boeing announced a partnership with Hindustan Aeronautics Limited and Mahindra Defence Systems for the manufacturing the F/A-18 Super Hornet in India for its air force.
The US aerospace major said the partnership will also work for joint development of future technologies in India and added that it will transform India's aerospace and defence ecosystem.
Boeing said the partnership will be for production of an affordable, combat-proven fighter platform for India.
"Boeing is excited to team up with India's only company that manufactures combat fighters, HAL, and India's only company that manufactures small commercial airplanes, Mahindra. This partnership brings the best of Indian public and private enterprises together in partnership with the world's largest aerospace company, Boeing, to accelerate a contemporary 21st century ecosystem for aerospace & defence manufacturing in India," said Pratyush Kumar, Boeing India's president.
Last week, India had issued an initial tender or Request For Information for procurement of 110 single and twin seater fighter jets for Indian Air Force in biggest such initiative in recent years globally.