Highlights
Dalit activists arrested during press conference on caste atrocities
Police say they planned to take out rally without permission
Police stopped around 50 activists from meeting Yogi Adityanath yesterday
Lucknow:
31 Dalit activists, who had called a press conference in Lucknow, were arrested on Monday afternoon by the Uttar Pradesh police. They were all released later. The police said they arrested the activists because they planned to march later towards Chief Minister Yogi Adityanath's residence, which they did not have permission for.
While eight activists were arrested from the Press Club, 23 other activists were arrested from a nearby guest house they were staying in.
The activists had booked a slot between noon and 4 pm for a discussion and press conference on the state of Dalits in Uttar Pradesh. The police told us we were being arrested to prevent cognizable offences, the activists said.
The activists, including Dalit leaders like Ramesh Dixit, Ram Kumar and retired bureaucrat SR Darapuri, said they would talk about "atrocities against Dalits" at the press conference and also, Mr Darapuri said, about 50 Dalits from Ahmedabad in Gujarat being offloaded from a train by the police in Jhansi yesterday to prevent them from reaching Lucknow, where they planned to meet the Chief Minister and present him with a gigantic bar of soap.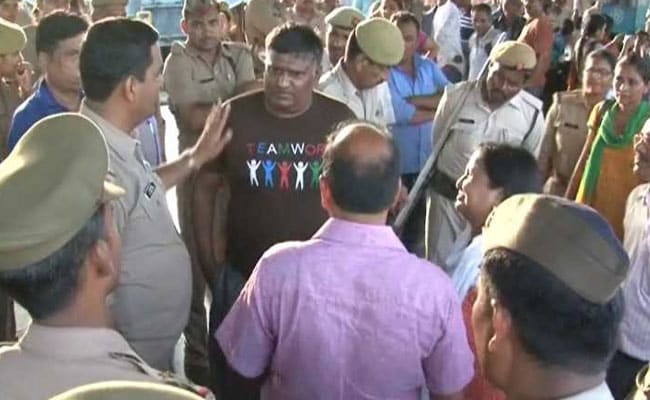 They said they wanted to personally gift the 125-kg soap bar to Yogi Adityanath in a symbolic protest. In May this year, people belonging to a Scheduled Caste in Uttar Pradesh's Kushinagar district had alleged that
they were given soap and shampoo by the local administration
ahead of a visit by the Chief Minister. Members of the Mushahar community -- one of the poorest in the state -- said they were asked to take a bath and "clean up properly" before attending Yogi Adityanath's function in Kushinagar.
The UP police gave no reason for the Gujarat Dalit group being asked to get off the train in Jhansi, but those offloaded said they were told it was for reasons of security.
They were taken to a local guesthouse and later sent back to Ahmedabad by train.