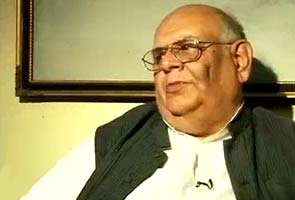 New Delhi:
A Delhi court has summoned former Union Minister Arun Nehru to appear before it on September 15, in connection with a case about the 1988 pistol purchase deal for the Army.
The court had earlier issued summons to Mr Nehru and B P Singhal, for August 30 but later granted them exemption from personal appearance for that day. Arun Nehru was then a Minister of State, Home and B P Singhal, the then additional secretary in the Ministry of Home Affairs.
The court rejected the Central Bureau of Investigation's (CBI) closure report which had stated that nothing incriminating could be found against Mr Nehru. Now the court has fixed September 15, as the next date of hearing in the case.
According to the FIR registered by the CBI against Mr Nehru, he along with two other senior officials had caused a loss of Rs 25 lakh to the exchequer in a pistol deal with Czechoslovakia in 1988.
Mr Singhal and A K Verma, the then director in the Home Ministry, allegedly conspired with Mr Nehru to execute the deal.
The prosecution alleged that Mr Nehru ignored the guidelines for conducting the evaluation of 9 mm pistols.
"The then minister did not consult the army personnel and technical experts before the deal was executed. The ministry had also approved the sample, which was found to have a wide array of defects," it had said.
The CBI, in its investigation, found that a policy decision to replace .38 mm revolvers with 9 mm ones was taken on February 21, 1986, following which global tenders were invited.
The deal was finally clinched with Czech firm Merkuria Foreign Trade Corp for purchase of the pistols.
But Mr Nehru, during examination, denied giving any specific written direction to purchase the pistol. He had also denied taking any decision regarding the constitution of a new evaluation committee, the CBI had said.
The CBI told the court that the investigations did not reveal any written instruction by Mr Nehru nor the constitution of any fresh evaluation committee.
"No prima facie evidence has come (up) that the accused had committed any misconduct or had misused his office with regard to the deal," the CBI had said.
It had also submitted that Mr Nehru gave the approval for the purchase on the recommendation of the then Home Secretary.
Subsequently, the CBI filed the closure report on June 13, 2007.
The court, however, had rejected the closure report observing that a few documents reflected involvement of the accused in the conspiracy.
"On the basis of material available in the closure report, the court had found sufficient ground to proceed against the accused persons".
(
With inputs from agencies
)
Get Breaking news, live coverage, and Latest News from India and around the world on NDTV.com. Catch all the Live TV action on NDTV 24x7 and NDTV India. Like us on Facebook or follow us on Twitter and Instagram for latest news and live news updates.