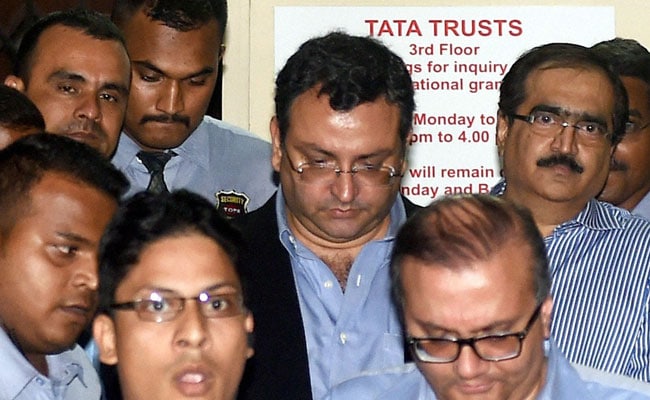 Highlights
Cyrus Mistry was removed as director of Tata Industries this morning
Ratan Tata had appealed to shareholders to help him remove Mr Mistry
Mistry accused Ratan Tata of "undermining" reforms; wrote to shareholders
Mumbai:
Cyrus Mistry was on Monday morning ousted as a director of Tata Industries in a vote at an extraordinary general meeting called specifically to remove him. Cyrus Mistry was sacked as Tata sons chairman earlier this year and the group is now trying to remove him from the other positions he holds in its various companies.
Six Tata group companies have called extraordinary general meetings or EGMs to remove Mr Mistry as director and Tata Sons interim chairman Ratan Tata had last week appealed to shareholders to help in that effort, telling them in a letter that Mr Mistry's continued presence in boards of Tata firms is a serious "disruptive influence" and can make the companies "dysfunctional".
The letter had sought the shareholders' support for the special resolution moved by Tata Sons, the holding company of the group, to remove Mr Mistry as director and said that Mr Mistry was removed as chairman of the group as the Tata Sons' board lost confidence in him and his ability to lead the conglomerate.
He said the "deliberated action" to remove Mr Mistry was taken after the relationship with him steadily deteriorated and "several attempts to remediate went unheeded".
Mr Tata also told shareholders that Mr Mistry was appointed as director of various Tata group companies only as a corollary to his being the chairman of Tata Sons.
"The right step would have been for him to resign as director. Unfortunately, he has not yet done so and his continued presence as a director is a serious disruptive influence on these company boards, which can make the company dysfunctional, particularly given his open hostility towards the primary promoter, Tata Sons," Mr Tata wrote.
Mr Mistry too has written to shareholders of group companies, accusing Ratan Tata of "undermining" reforms. He has argued that group companies fared better in his four-year tenure as chairman than competitors.
Mr Mistry joined the board of Tata Sons in 2006 and was appointed Chairman in December 2012.