Lucknow:
After stripping the word "Samajwadi" from various government schemes, the Yogi Adityanath government has now shifted focus to cycle tracks constructed during former Chief Minister Akhilesh Yadav's regime.
"We will demolish cycle tracks in the state which are unused and are causing traffic congestion. The demolition process will begin shortly from Bareilly," Urban Development Minister Suresh Kumar Khanna told PTI today.
An 850-metre cycle track, which will be demolished soon, was constructed at a cost of Rs 6.48 crore. "Yes, we will be demolishing cycle tracks... following complaints of locals in Bareilly, I have agreed to get cycle tracks demolished there as they were creating traffic congestion," Mr Khanna said.
He added that these decisions are taken keeping in mind the interest of the public. "We act on public request. Wherever people are facing problems, they are reporting it and after going through their complaint we take decision," he said.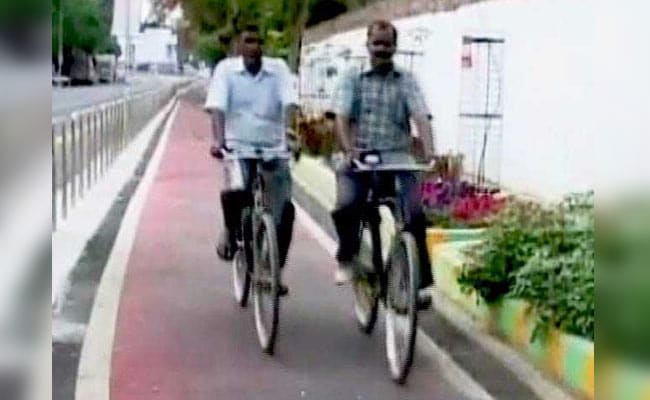 The previous Samajwadi Party government had constructed these cycle tracks in Lucknow, Noida, Bareilly and other towns with a message to conserve the environment and promote use of cycle for better health.
The state urban housing policy had recommended construction of cycle tracks for "easy, smooth and safe movement of cyclists" in urban pockets of the state. The 207-km project cost Rs 134 crore. However, in many places they led to traffic snarls and were eventually occupied for illegal parking or by vendors.
The 'cycle' is the election symbol of the Samajwadi Party which ruled the state for five years before it was uprooted by the BJP tsunami during the assembly elections which saw the saffron party storm to power with three-fourth majority in the 403-member House.
Soon after coming to power, Chief Minister Yogi Adityanath began reviewing projects initiated during the previous SP regime. He visited the Gomti river front in Lucknow, a project initiated fondly by his predecessor Akhilesh Yadav. The project has been on for two years and has already cost the state over Rs 1,427 crore from a budget of 1,500 crore and it is yet to be completed, noted an unimpressed Yogi Adityanath.
The Chief Minister has since recommended CBI probes into several projects of the previous SP regime and tried to erase 'Samajwadi' from the schemes.
Mr Yadav had attached the word to over a dozen government schemes such as smart phone scheme, pension scheme, health insurance scheme, youth employment scheme and the ambulance service (which is now called the Mukhyamantri ambulance service).
The previous government's ambitious highway project that aims to link Lucknow to Ballia is now known as the Purvanchal Expressway after the current government dropped 'Samajwadi' from its name.