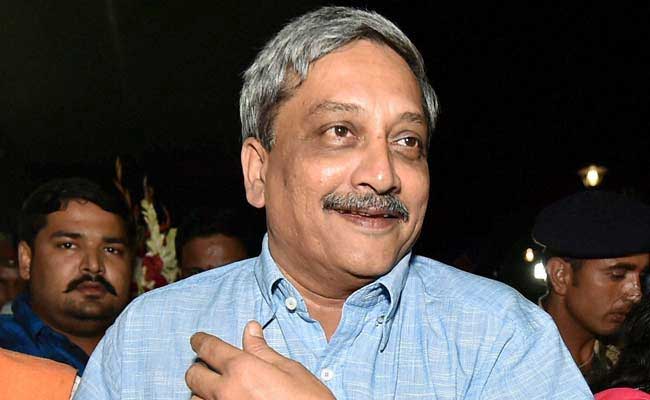 Highlights
After big currency ban terror funding has come down: Manohar Parrikar
Defence Minister thanked PM Modi for the "daring" move
Post demonetisation, there hasn't been stone-throwing in Kashmir, he said
Mumbai:
Since the big currency ban, terror funding has come down to zero and there hasn't been stone-throwing on security forces in Kashmir, Defence Minister Manohar Parrikar said on Monday.
"Earlier, there were rates - Rs. 500 for stone pelting (on security forces in Kashmir) and Rs. 1,000 for doing something else. PM has brought terror funding to zero," Mr Parrikar said at an event organized by BJP lawmaker Atul Bhatkhalkar.
"In the last few days after the PM's daring move there hasn't been stone pelting on security forces. I congratulate PM for it," he added.
Last Tuesday, Prime Minister Narendra Modi, in a sudden announcement, pulled Rs 500 and Rs 1,000 notes out of circulation. He said the tough move was necessary to crack down on black or untaxed money and choke terror funding.
Speaking to reporters, Mr Parrikar said those who sponsor terror will be affected by the notes ban. "The problem of new notes circulation will be resolved to a large extent in the next four-five days," he added.
He credited PM Modi with daring decisions, "be it border security or economic security", referring to the surgical strike in September targeting terror staging areas in Pakistan Occupied Kashmir.
"Whether it is border security or economic security, PM Modi has taken daring decisions. Whatever is being done, our jawans on border are doing it, I and PM are just supporting it," he said.
The minister also appeared to take a swipe at ally Shiv Sena, which has been critical of the demonetisation move. In the next election to Mumbai's civic body BMC or Brihanmumbai Municipal Corporation, he said, "nobody will be left with the power to bribe voters." The Sena controls the civic body.
Mr Parrikar was presented a citation that praised him for the surgical strikes. It also thanked him for providing relief to people affected by land development rules near ordnance depots. To which, Mr Parrikar quipped: "When I became Defence Minister, I did not think there will be things like this... I thought defence meant bang-bang on the border."