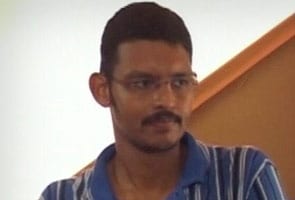 Kannur/Jaipur:
The man who the police has identified as rapist Bitti Mohanty is being taken back from Kerala, where he was found, to Rajasthan, where he jumped parole while serving a seven-year jail sentence for sexually assaulting a German tourist.
At the time, in 2006, Mr Mohanty's father, BB Mohanty, was serving as Director General, Home Guards and Fire Services in Odisha.
The man insists that he is named Raghav Rajan and is not the convict who the police are searching for. Yesterday, a Rajasthan police officer who had travelled to Kerala identified him as the missing rapist.
He will be escorted by train to Jaipur in Rajasthan where his fingerprints will be matched with those on record for the German tourist's case. According to reports, he may be put through tests to match his DNA with that of BB Mohanty, who retired in 2010.
"We will take him to Rajasthan Tuesday for investigations on how he managed to get certificates and documents in the fake identity of 'Raghav Rajan' from Andhra Pradesh," said M Anil, a senior Kerala police officer working on the case.
An anonymous letter received by the state-run bank where he worked warned that he was in fact a rapist on the run. Bank officials shared the note with the Kerala Police. The police says that in the 6 years that he was underground, Mr Mohanty completed an MBA, taught at a college, and then got a bank job.

The Kerala Police have formed three teams of 20 officials to travel to Rajasthan, Andhra Pradesh and Odisha for the investigation.
"Bitti will be first taken to Rajasthan where he jumped parole in 2006. If need be, he will be taken to the other two states," said a police official.