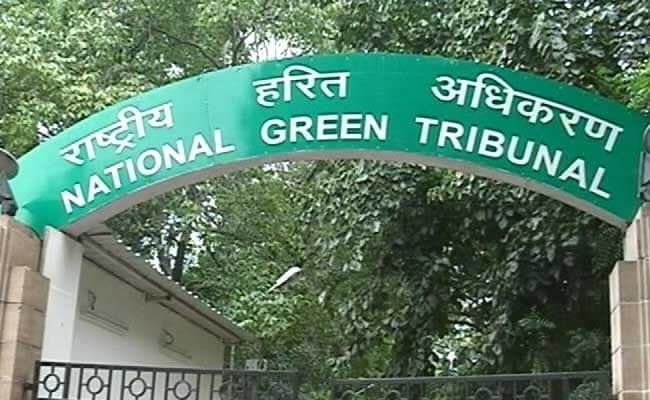 New Delhi:
Noting that only 1.1 lakh of the 2.7 lakh healthcare facilities identified across the country are authorised under the biomedical waste management rules, the National Green Tribunal on Tuesday said serious efforts should be made to bridge this gap to avoid environmental hazards arising out of handling of COVID-19 disease.
A bench headed by NGT Chairperson Justice Adarsh Kumar Goel was hearing through video conferencing the issue of addressing the gaps in compliance of the Biomedical Waste Management & Handling Rules, 2016 for the disposal of bio-medical waste.
According to a Parliament report tabled in February 2019, currently, in India, there are around 200 Common Bio-Medical Waste Treatment Facilities (CBMWTFs) in operation which is inadequate for health facilities in 750 districts of the country.
"We have also observed that out of 2.7 lakh HCFs identified, only 1.1 lakh HCFs are authorized under the BMW Management Rules, 2016 so far. The State PCBs/PCCs have to make serious efforts to bridge this gap to mitigate possible risk in terms of unscientific disposal of bio-medical waste and to enforce rule of law," the tribunal said.
The NGT also had an interaction on the need for revision of the guidelines issued by the Central Pollution Control Board for scientific disposal of liquid and solid waste management generated during treatment of COVID-19 patients.
It said that care should be taken in disposal of used PPEs, used bags, gloves, goggles etc. without the same getting straightaway mixed with other municipal solid waste causing contamination.
The tribunal said that there was a need to review effectiveness of the monitoring mechanism, including securing information by way of electronic manifest system from the handlers of such waste and its online reporting by the state pollution control boards on daily basis by developing necessary software and, creating awareness.
"We are of the view that to the above extent, the task of pollution control boards and the CPCB is part of essential health services for COVID-19. The CPCB may convey this to all concerned. Further order reserved. The same will be uploaded on or before April 27 after due interaction with the members," the NGT said.
The Central Pollution Control Board (CPCB) had on April 19 issued revised guidelines for management of waste generated during the diagnostics and treatment of suspected and confirmed COVID-19 patients.
While state governments and Centre have initiated various steps to deal with the pandemic, the apex pollution monitoring body said specific guidelines are required to be followed by all, including isolation wards, quarantine centres, sample collection centres, laboratories, ULBs and common biomedical waste treatment and disposal facilities, in addition to existing practices under BMW Management Rules, 2016.
The CPCB also wrote to the state pollution control boards and pollution control committees to consider operation of common bio-medical waste treatment and disposal facility and its associated staff as essential service part of health infrastructure.
"These guidelines are based on current knowledge on COVID-19 and existing practices in management of infectious waste generated in hospitals while treating viral and other contagious diseases like HIV, H1N1, etc. These guidelines will be updated if need arises.
"This Revision-2 of guidelines is mainly to incorporate specific requirements and responsibilities of persons operating sewage treatment plants at healthcare facilities and to clarify on management of general waste from quarantine homes and masks/gloves from other households," the CPCB had said.
World
Coronavirus has spread to 200 countries. The total confirmed cases worldwide are 61,85,57,262 and 65,48,574 have died; 56,79,72,536 are active cases and 4,40,36,152 have recovered as on October 4, 2022 at 8:56 am.
India
4,40,36,152

3481
Recovered
In India, there are 4,45,99,466 confirmed cases including 5,28,716 deaths. The number of active cases is 34,598 and 4,40,36,152 have recovered as on October 4, 2022 at 8:00 am.
State & District Details
State
Cases
Active
Recovered
Deaths

8122432 180

2739

7971346 357

148347

Sri Potti Sriramulu Nell*

296

2338377 5

198

2323446 29

14733

4065100 43

2793

4022022 110

40285 1

258153 10

208

253979 21

3966

3584563 461

5339

3541177 537

38047

6808617 680

8728

6728689 1292

71200 8

1176447 66

383

1161929 97

14135 1

Jayashankar Bhupalapally

9

838108 73

609

833388 94

4111

1334434 67

1007

1324230 194

9197 2

1054356 13

112 1

1043473 12

10771

1274989 62

779

1263175 91

11035

1313271 32

336

1303294 60

9641

1055040 26

231

1044103 44

10706 1

2126348 42

479 12

2102247 30

23622

2003576 39

356

1976717 56

26503 1

745654

2710

734909

8035

44195 5

53 3

43644 2

498

850590 10

179

838109 19

12302

2115045 92

2868

2090668 275

21509 1

North And Middle Andaman

1

10693 3

24

10540 3

129

174685 2

248

172463 32

1974

66850 1

13

66541 3

296

35961

6

35174 3

781

11587

1

11582

4

442373 3

60

436983 4

5330

107803

24

106840 3

939

29342 2

14 2

29097

231

479174 11

114 3

474275 8

4785

312233 11

99

307924 24

4210

Shahid Bhagat Singh Nagar (Nawanshahr)

99

782047 12

155

763976 24

17916

449226 10

986

440489 11

7751

139816 1

9 1

137658

2149

99211

23

98007 3

1181

96704 2

38

95044 5

1622

238462 4

88

237651 38

723

11415

0

11363

52
(Except for the headline, this story has not been edited by NDTV staff and is published from a syndicated feed.)