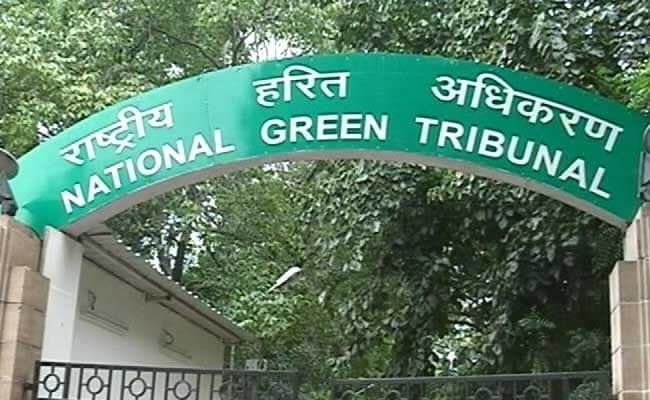 New Delhi:
Noting that only 1.1 lakh of the 2.7 lakh healthcare facilities identified across the country are authorised under the biomedical waste management rules, the National Green Tribunal on Tuesday said serious efforts should be made to bridge this gap to avoid environmental hazards arising out of handling of COVID-19 disease.
A bench headed by NGT Chairperson Justice Adarsh Kumar Goel was hearing through video conferencing the issue of addressing the gaps in compliance of the Biomedical Waste Management & Handling Rules, 2016 for the disposal of bio-medical waste.
According to a Parliament report tabled in February 2019, currently, in India, there are around 200 Common Bio-Medical Waste Treatment Facilities (CBMWTFs) in operation which is inadequate for health facilities in 750 districts of the country.
"We have also observed that out of 2.7 lakh HCFs identified, only 1.1 lakh HCFs are authorized under the BMW Management Rules, 2016 so far. The State PCBs/PCCs have to make serious efforts to bridge this gap to mitigate possible risk in terms of unscientific disposal of bio-medical waste and to enforce rule of law," the tribunal said.
The NGT also had an interaction on the need for revision of the guidelines issued by the Central Pollution Control Board for scientific disposal of liquid and solid waste management generated during treatment of COVID-19 patients.
It said that care should be taken in disposal of used PPEs, used bags, gloves, goggles etc. without the same getting straightaway mixed with other municipal solid waste causing contamination.
The tribunal said that there was a need to review effectiveness of the monitoring mechanism, including securing information by way of electronic manifest system from the handlers of such waste and its online reporting by the state pollution control boards on daily basis by developing necessary software and, creating awareness.
"We are of the view that to the above extent, the task of pollution control boards and the CPCB is part of essential health services for COVID-19. The CPCB may convey this to all concerned. Further order reserved. The same will be uploaded on or before April 27 after due interaction with the members," the NGT said.
The Central Pollution Control Board (CPCB) had on April 19 issued revised guidelines for management of waste generated during the diagnostics and treatment of suspected and confirmed COVID-19 patients.
While state governments and Centre have initiated various steps to deal with the pandemic, the apex pollution monitoring body said specific guidelines are required to be followed by all, including isolation wards, quarantine centres, sample collection centres, laboratories, ULBs and common biomedical waste treatment and disposal facilities, in addition to existing practices under BMW Management Rules, 2016.
The CPCB also wrote to the state pollution control boards and pollution control committees to consider operation of common bio-medical waste treatment and disposal facility and its associated staff as essential service part of health infrastructure.
"These guidelines are based on current knowledge on COVID-19 and existing practices in management of infectious waste generated in hospitals while treating viral and other contagious diseases like HIV, H1N1, etc. These guidelines will be updated if need arises.
"This Revision-2 of guidelines is mainly to incorporate specific requirements and responsibilities of persons operating sewage treatment plants at healthcare facilities and to clarify on management of general waste from quarantine homes and masks/gloves from other households," the CPCB had said.
World
Coronavirus has spread to 194 countries. The total confirmed cases worldwide are 19,25,67,051 and 41,35,742 have died; 6,17,74,361 are active cases and 12,66,56,948 have recovered as on July 23, 2021 at 9:24 am.
India
3,04,68,079

38740
Recovered
In India, there are 3,12,93,062 confirmed cases including 4,19,470 deaths. The number of active cases is 4,05,513 and 3,04,68,079 have recovered as on July 23, 2021 at 8:00 am.
State & District Details
State
Cases
Active
Recovered
Deaths

6245057 7302

97513

6016506 7756

131038 120

Sri Potti Sriramulu Nell*

296

1948592 1843

23571

1911812 2199

13209 12

2889994 1653

24718

2828983 2572

36293 31

170199 97

1376

165700 129

3123 5

2543040 1872

25526

2483676 2475

33838 29

3218015 12818

129381

3072895 13454

15739 122

1000763 217

3241

984015 359

13507 1

Jayashankar Bhupalapally

9

639369 648

9857

625738 696

3774 3

961934 1948

17466

939160 2210

5308 67

791721 17

185

781024 17

10512

824608 34

370

814162 53

10076

953462 25

360 2

944150 22

8952 1

769665 25

765

759287 47

9613 2

1708057 52

1028

1684286 56

22743 4

1435720 49

585 19

1410095 29

25040 1

554221 1796

16205

532940 2262

5076 22

24341 294

2719 103

21294 189

328 2

724230 61

597 7

713998 54

9635

1521261 793

12205

1491016 966

18040 13

North And Middle Andaman

1

7525 4

19 1

7377 3

129

120003 68

955

117265 72

1783 2

44708 486

4398 14

40102 468

208 4

27024 81

1237 19

25251 61

536 1

10624 5

36 2

10584 3

4

346846 22

305

341419 32

5122

75608 509

4251

70623 594

734 2

20284 2

83

19995 10

206

320340 84

1513

314454 172

4373 1

204800 115

935

200356 119

3509 2

Shahid Bhagat Singh Nagar (Nawanshahr)

99

598590 69

811

581529 123

16250 4

341629 56

649 6

333621 48

7359 2

88978 928

10395 48

77147 868

1436 12

61916 2

34

61073 9

809

59346 513

4413 192

53945 307

988 14

30492 847

7744 548

22617 295

131 4

10100 7

67

9984 11

49
(Except for the headline, this story has not been edited by NDTV staff and is published from a syndicated feed.)