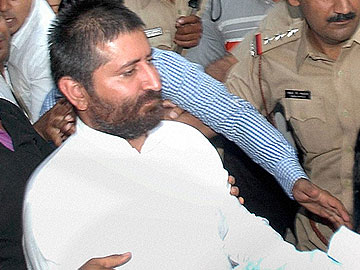 Surat:
Narayan Sai, the 41-year-old son of spiritual leader Asaram Bapu, has confessed to raping a woman who lived at his father's ashram or retreat house in Surat, says the city's police. Incorrect, said his lawyer.
Rakesh Asthana, the Surat Police Commissioner, told reporter today that Narayan Sai had also admitted that "he had a physical relationship with eight other women followers in different parts of the country". He said, "We are trying to trace them so that corroborative evidences are gathered against the accused."
The police says these confessions were made during interrogation. But they cannot be used as evidence against Narayan Sai.
After two months of dodging arrest, he was found a week ago from near the Delhi-Haryana border, disguised as a Sikh. He has been in prison in Surat since then.
Two sisters have accused his father and him of raping them at separate ashrams in Gujarat between 1997 and 2006.
The younger sister says Narayan Sai raped her repeatedly between 2002 and 2005. Her older sister says Asaram Bapu raped her between 1997 and 2006 while she was living at his ashram on the outskirts of Ahmedabad.
Asaram Bapu has been in a Rajasthan jail since September after a school girl accused him of sexual assault at an ashram in Jodhpur.
The sisters who subsequently filed rape cases against the 72-year-old religious preacher and his son said they were inspired by the 16-year-old's courage in speaking out.