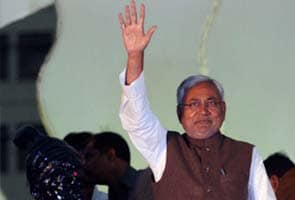 New Delhi:
Bihar Chief Minister Nitish Kumar was sanctioned a financial package of Rs 12,000 crore by the Centre on Thursday. The first of four installments of Rs 3,000 crore will be paid to his state over the next few months, ahead of the national election.
The Centre's generosity comes as Mr Kumar and his political partner, the BJP, seem headed for a split after a 17-year alliance.
Over the last few months, the Congress-led coalition at the centre has atrophied considerably, losing regional powerhouses Mamata Banerjee and then the DMK. Landing the support of the Bihar chief minister and his Janatal Dal (United) would be a political coup.
The 12,000 crores that were approved for Bihar under the Backward Regions Grant Fund is double the amount allocated last year to the state by the Planning Commission
But the BJP, sensing the Congress circling its partner, was quick to suggest the grant is no big financial deal.
Bihar's Deputy Chief Minister, Sushil Kumar Modi of the BJP, said the state had asked for Rs 20,000 crore. "This package was started by the Vajpayee government. So it has been continuing over the past 10-15 years. There is nothing new. We were given just 12,000 crore when we wanted 20,000 - this is unfair. And the Union Budget just provides 5,000 crores for five states this year, so it remains to be seen how much we actually get, "he said.
The BJP and the Janata Dal (United) who have co-governed Bihar since 2005 are at war over the former's refusal to rule out Narendra Modi as the prime ministerial candidate for the National Democratic Alliance, the coalition anchored by the BJP.
The JD(U) says that Mr Modi is tainted by the communal riots in his home state of Gujarat in 2002, in which hundreds of Mulims were killed during his first term as chief minister.
But since his third consecutive re-election in December, Mr Modi has parachuted to the front of a group of leaders who are vying to be picked as the BJP's presumptive prime minister.
Get Breaking news, live coverage, and Latest News from India and around the world on NDTV.com. Catch all the Live TV action on NDTV 24x7 and NDTV India. Like us on Facebook or follow us on Twitter and Instagram for latest news and live news updates.