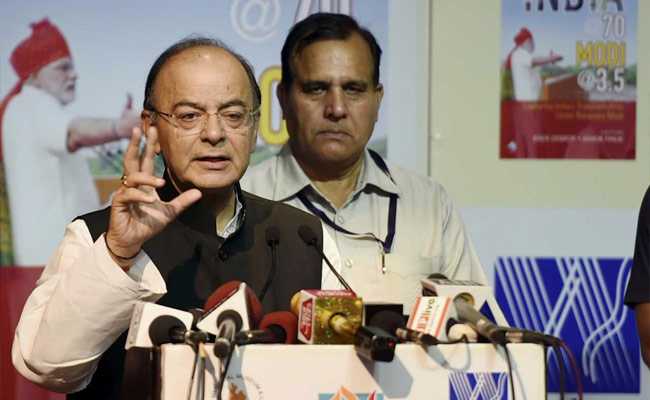 Highlights
Arun Jaitley said he didn't have luxury for being former finance minister
"All he did was insult his predecessor," said Congress' Randeep Surjewala
Yashwant Sinha had hit out at Arun Jaitley and centre over economy
New Delhi:
Finance Minister Arun Jaitley's takedown of his critics
for the government's handling of the economy has drawn a jibe from the Congress that not just accused the minister of shifting goalposts but also attacked the minister for comments about BJP veteran Yashwant Sinha that the Congress said "should be unacceptable in political life".
The
veteran BJP leader's analysis of the economy
had blamed Mr Jaitley for making a "mess" of the economy that will not resuscitate before the next general election, a critique that has been cited by Congress leaders to corner the BJP-led national coalition that completed three years in May this year.
Mr Jaitley broke his silence on the barbs thrown at him for the last two days last evening at the release of a book titled "India @70 Modi @3.5", flinging the darts back at Yashwant Sinha and Congress' P Chidambaram.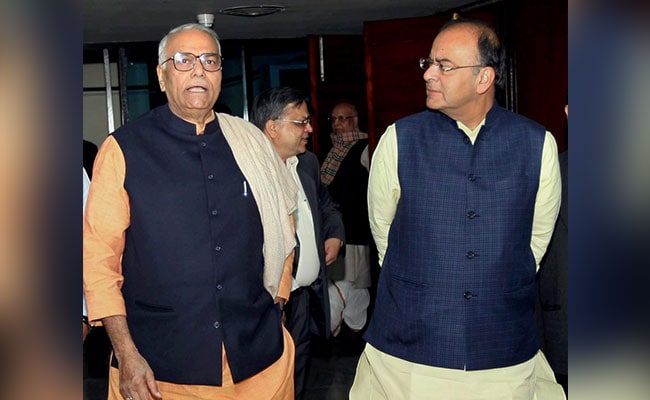 Calling Mr Sinha "a job applicant at 80", Mr Jaitley said he did not "have the luxury as yet of being a former finance minister" and so, could not forget certain facts or change the narrative to suit his convenience. The minister denied that the economy had slowed down and charged the two former ministers of "acting in tandem", reminded them both how they had run down each other in the past.
Hitting back, the Congress said the minister had "tried to escape the blame game, shift goal posts, escape responsibilities, and deny accountability" and skipped far too many points. He had, for instance, not spoken about the number of jobs that his government had created.
"All he did was insult his predecessor and senior Bharatiya Janata Party leader Yashwant Sinha by passing remarks that should be unacceptable in political life," Congress Spokesperson Randeep Surjewala said, a reference to Mr Jaitley calling Mr Sinha a job applicant.
BJP sources had earlier accused Mr Sinha of trying to embarrass the government because he was disgruntled and frustrated, a point Mr Sinha had rebutted in an interview to NDTV earlier in the day. Mr Sinha had underlined that he had opted out of electoral politics in 2014 by informing then party president Rajnath Singh who could back him up on this.
"Unless effective measures are taken to set the economy's course right, Jaitley will himself have the distinction and luxury of being a former Finance Minister," Mr Surjewala continued, taking a swipe at the Finance Minister.
Of the many things that Mr Jaitley did not talk about, he said, were the number of jobs that have been created by this government.
"The Finance Minister did not answer why the exports share in the GDP is at a 14-year low? He did not tell why PMI (Purchasing Managers' Index) in manufacturing sector is at eight-year low and credit growth lowest in the last 63 years?" Mr Surjewala said.