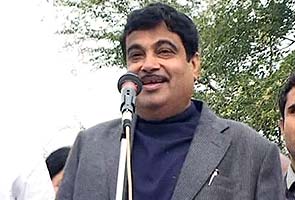 Nagpur:
Nitin Gadkari arrived in his home town of Nagpur today to a massive welcome by his supporters, a day after he was replaced as the president of the BJP, largely because of allegations of financial malpractice by a company he founded in 2000.
Mr Gadkari has blamed the government for orchestrating an income tax investigation to damage his career and chances of a second term as the leader of the main opposition party.
Today, he said, in a show of belligerence: "Before the income tax department, it was the Central Bureau of Investigation that used to dance to the Congress's tunes. Now income tax officials are working in Delhi and Nagpur, conspiring against me. I even know the names of these officials. But they should not forget that the Congress government is on its way out. And when the BJP comes to power, there will be no Chidambaram or Sonia Gandhi to save them."
Mr Gadkari appeared till earlier this week to be within the finish line of an unprecedented second consecutive term as BJP president, despite opposition from other senior leaders in the party like LK Advani, who argue that the corruption charges against him will hurt the BJP's image in the crucial next few months ahead of the general elections.
On Tuesday, the scaling up of the tax investigation against the Purti Group, founded by Mr Gadkari in 2000, ensured that he would not return to the party's top job.
Mr Gadkari was replaced as BJP president yesterday by Rajnath Singh, who promised that the party will stand by him.