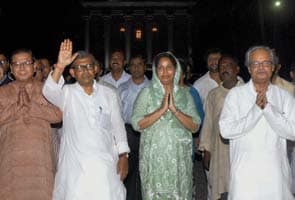 Kolkata:
The six Congress ministers in the West Bengal government met chief minister Mamata Banerjee at her office in Writer's Building today and handed in their resignation letters. The meeting lasted for around 20 minutes and Ms Banerjee, according to sources, thanked the Congressmen for their performance as ministers and urged them to approach her in the future in case they face any issues. After the meeting, the Congress leaders then met Governor M K Narayanan to withdraw support to the state government.
With the end of its alliance with Trinamool, the Congress' Bengal unit has set its sights on the Union Cabinet. PCC leader Om Prakash Mishra wrote to Sonia Gandhi on Friday, urging her to appoint ministers from the state at the Centre as, with Pranab Mukherjee becoming President and the six Trinamool leaders resigning, there is not a single minister from the state in Delhi. Mr Mishra said that the state deserves proportionate representation in the council of ministers. He asked for at least three berths, including one in the Cabinet.
The Trinamool-Congress relationship in West Bengal has not been an easy one and was so far held together tenuously only by the tie-up at the Centre. The two parties have clashed incessantly in West Bengal going public with attacks on each other.
Mamata Banerjee has majority on her own in West Bengal with 184 seats and does not need the Congress' support. The Left only has 61 seats but the CPM has only 39. Therefore, the Congress, with 41 seats, will now become the principle opposition party in the state.
With the Congress sitting in the opposition hereafter and contesting elections like the Panchayat polls on its own, some splitting of votes is expected. The Trinamool and Congress had a pre-poll alliance in West Bengal.
The Trinamool withdrew support to the Congress-led UPA government at the Centre on Friday. Six Trinamool ministers met PM Manmohan Singh in New Delhi and handed their resignation letters. The then went to the Rashtrapati Bhawan and handed over the letter to President Pranab Mukherjee to withdraw support.
With the exit of Ms Banerjee and her 19 Lok Sabha MPs from the Centre, the UPA government is in minority. But it is not in any imminent danger as it has the external support of Samajwadi Party's Mulayam Singh Yadav and BSP's Mayawati, who have 43 MPs between them. Mr Yadav confirmed yesterday morning that he will continue to prop up the UPA. Neither Mayawati nor he participate in the government.