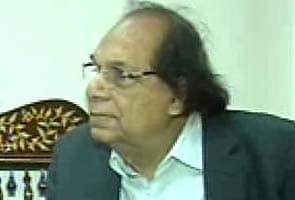 New Delhi/Kolkata:
A letter-bomb by the now-arrested
Sudipta Sen
, head of the Saradha Group, has scorched West Bengal's ruling party, the Trinamool Congress. Mr Sen, whose chit fund folded last week, leaving lakhs of investors broke, says two Trinamool MPs blackmailed and exploited him, a charge the party has denied. (
Read: Chit fund chief's letter-bomb lists national leaders, Mamata MPs
)
Now, the Congress is also feeling the heat, partly because its leaders' alleged links to Mr Sen are being highlighted by the Trinamool on its website.
So the party was quick today to make available a letter written by Congress minister AH Khan Chowdhury to the Prime Minister last year, in which he withdraws an earlier complaint that sought the investigation of Saradha's chit fund.
Mr Chowdhury wrote that when he had asked for an inquiry against Saradha in 2011, he was misinformed that Mr Sen's father was an infamous chit-fund owner who had duped thousands of people and committed suicide. The minister also praised Saradha Realty for conducting "a prosperous and successful" business and said it had no links to a chit fund.
Today, Mr Chowdhury said his all-clear was limited to the real estate concerns of the Saradha Group.
"No one is going to believe his story," said Trinamool leader Derek O'Brien. "It is a complete about-turn. He had some serious issues and reservations about the Saradha group...now he has given them a clean chit."
Mr O'Brien said that while Mr Sen's letter bomb was written by "a fugitive on the run," implying that its charges are baseless, Mr Khan Chowdhury's note merits much more scrutiny because it was written by a member of Parliament.