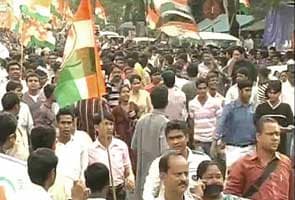 Kolkata:
In signs of what appears to be a strain in the alliance in West Bengal, activists of the Youth Congress today took out a silent rally in Kolkata in protest against the violent attacks on its supporters by the Trinamool Congress (TMC).
Led by Congress MPs Deepa Das Munshi and Mausam Noor, the protestors marched with their mouths gagged but warned of intensifying their protests if the Trinamool did not stop the attacks.
"The way TMC people are beating our people...the Congress workers throughout Bengal and cases are being lodged against us...If this thing continues, we will definitely go for greater agitation", Ms Munshi said.
The party's state leadership has apparently also written to Chief Minister Mamata Banerjee over the attacks but is yet to get a reply.
"Our Pradesh Congress President Pradip Bhattacharya has already approached her but no reply from her side", Ms Munshi said.
Significantly, protest match had the nod of Congress General Secretary Rahul Gandhi. While the alliance between both the parties has seen some rumblings at the Centre, it has, so far, been relatively calm at the state level.
Very recently, Ms Banerjee had, upset over the last fuel hike, threatened to withdraw support from the Congress-led UPA government.
Get Breaking news, live coverage, and Latest News from India and around the world on NDTV.com. Catch all the Live TV action on NDTV 24x7 and NDTV India. Like us on Facebook or follow us on Twitter and Instagram for latest news and live news updates.