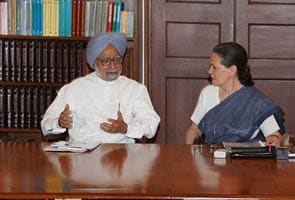 New Delhi:
If the UPA government wants Right to Food to be their trump card in the next Lok Sabha elections, the Congress party clearly wants to own it.
August 20, Rajiv Gandhi's birth anniversary, is going to be a big day for the 14 Congress-ruled states that plan to roll out UPA's ambitious food security scheme. The decision was taken at a high-level party meeting attended by Prime Minister Manmohan Singh, Congress president Sonia Gandhi, party vice-president Rahul Gandhi and Food Minister KV Thomas. The decision comes days after the government rushed through an ordinance that has to be now ratified within six weeks of its tabling in Parliament. (
Read
)
For the record though, Ajay Maken, who heads the party's communications wing said, "The chief ministers of Haryana and Delhi indicate that they are in a position to roll out the scheme by August 20. Other states said they will implement it as soon as possible."
Next week, the party also plans a publicity offensive by sending their national spokespersons to all state capitals. They will hold workshops and press conferences on food security, clearly another attempt to associate the Congress with the central food security law.
The scheme will benefit 82 crore people and the Congress would hope, some of this translates into votes for them. It, however, denies a political motive. "I have said this before. Please don't associate this with elections. It should be seen in the context of our other social security schemes like MNREGA, Right to Education, Right to Information among others," claims Mr Maken.
The Opposition is not amused. The BJP claims their food security law, enacted in Chhattisgarh, is much better version.
The BJP alleges that the Congress took ordinance route and delayed the Monsoon Session of Parliament to avoid a debate on the bill's merit.
"We have Chhattisgarh model to be followed. And that is why the Congress has run away from discussion," BJP spokesperson Meenakshi Lekhi says.
Most food activists, despite pointing out shortcomings in the national food security act, say Right to Food is an idea whose time has come. And Congress is clearly betting on the Food Security Bill to make their future politically secure.