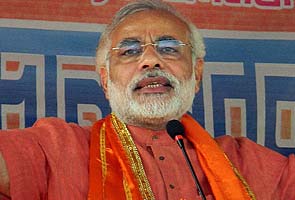 New Delhi:
Gujarat Chief Minister Narendra Modi on Friday defended himself in the 2002 riots case, saying he did nothing wrong. In an interview to Reuters, Mr Modi said that he had been given a clean chit by the Supreme Court-appointed Special Investigation Team or SIT. "Another thing... someone else is driving a car and we're sitting behind, even then if a puppy ("kutte ka bachcha") comes under the wheel, will be painful or not? Of course, it is. If I'm a chief minister or not, I'm a human being. If something bad happens anywhere, it is natural to be sad," he said defending himself.
(Read the full interview here)
The remarks by the Gujarat strongman have evoked sharp reactions from amongst the political leaders.
Digvijaya Singh, Senior Congress leader:
Shouldn't we all be Nationalist Indians rather than Hindu Nationalist or Muslim Nationalist or Sikh Nationalist or Christian Nationalist? (
Read full story
)
Salman Khurshid, Congress leader and Minister of External Affairs
Modi has a poor impression about the Indian people, to be a Hindu nationalist is an oxymoron. Religion can't have nation. It is a very very narrow and unsustainable idea to use a religion and treat it as a companion of nationalism. You need to ask some questions of your own driver and taking some action against him. Don't think Mr Modi has done that.
Arjun Modhwadia, Congress leader
What he said today is what was really in his mind. He was doing this conspiracy for long for the sake of votes. He says that he is the leader of a particular community. Today, BJP can't go forward without Modi. This is unfortunate for BJP and the country.
Sanjay Jha, Congress spokesperson

Comparing Modi to Gandhi is preposterous. Gandhi preached non-violence and died for it and on the other hand, you have heard Modi's interviews. I do believe Mr Modi gives every interview in a very practised manner. He knows how to play to the gallery. He knows exactly what to say. Giving the analogy of a puppy getting crushed under a car in a very casual manner is very regrettable. It's a very callous way of referring to human life.
Nirmala Sitharaman, BJP spokesperson
It is despicable to say that Modi compared a community to dogs. It's absolutely unfortunate and I only wish that much before more comments are made and interpretations are made, people should read the interview and in what context it was made. This is a complete misinterpretation leading to unwanted breaking up of a controversy which doesn't exist. I appeal to all to read the interview fully and understand it before getting your retorts ready.
Kamal Farooqi, Samajwadi Party leader
Is this patriotism? When you become a Chief Minister, you take an oath, to protect your people. You are worried about a puppy. But you didn't ever apologise for the mass killings. It is very sad, very disturbing... What does he (Modi) think, that Muslims are worse than even puppies? He does not have a heart for them. He should feel sorry about it. We should protest about it. I as a Muslim have very strong feelings about it. He should apologise to the whole nation.
Naresh Agarwal, Samajwadi Party leader

Riots in 2002 were on the orders of the government. Investigations are making every thing clear. The alternative is a Third Front.

Sanjay Raut, Shiv Sena MP and spokesperson
We welcome Modi's stand. It was our strong belief from the time of Balasaheb Thackeray that the nation's leadership should be in the hands of a Hindutva Leader. Modi's stand will benefit NDA.
Shivanand Tiwari, Janata Dal United leader

Why does he need to speak on Hindu nationalism? This shows that he is not an inclusive leader. He is selective. Are you going to exclude the 20 per cent population of the country. Hitler could not eliminate Jews. These 'Hindutva-vadi' people are destroying the Indian heritage of religious pluralism.

Sabir Ali, Janata Dal United leader
The country can never accept such person. Nitish Kumar never allowed Narendra Modi to enter Bihar in eight years of his incumbency.

Brinda Karat, CPM leader
It is utterly shameful that he is justifying the genocide and using inappropriate examples and analogies to trivialise the enormity of it. Even today, he is not ready to express regret either for the genocide or for the cold-blooded murder of innocents by the police. This is Modi's model of governance.
D Raja, CPI leader
The huge massacre could not have taken place without the active connivance of the state machinery. Now Narendra Modi says he has nothing to regret, I can't understand... what happened there is a fact of history. Mr Vajpayee, the then PM went to Gujarat and said nobody should cross their mark. Now in an interview, he says he has nothing to regret. I cant understand. I don't think any SIT has given him any clean chit. In fact, new revelations are coming out. New facts are coming out in the case.
AB Bardhan, CPIleader
If this is how a Chief Minister talks about his responsibilities, then he is playing with the people. This is not possible that he is sitting in his car and he does not know who the driver is. He is trying to change his image. I considered BJP itself is a communal party and he is a divisive element.
Devang Nanavati, Gujarat High Court advocate
The SIT has absolved him. The SIT has found nothing wrong. On the contrary, he has said that he is sad that people died even though he had no role in it. Mr Modi did everything (to control the situation). Obviously, Mr Modi is justified in saying that he did everything possible to prevent the riots. Mr Modi took action within 24 hours. The Army was called in within 48 hours. More than 70 companies of the RAF were deployed.