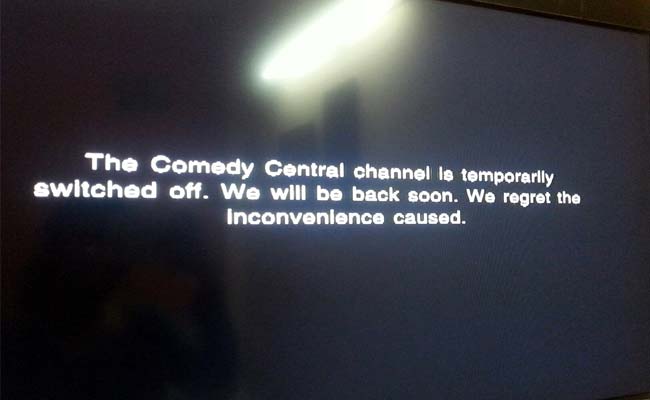 New Delhi:
Entertainment channel Comedy Central has gone off-air for at least five days after the government found its shows having "obscene" and "vulgar" dialogues besides being derogatory to women.
The Delhi High Court had on Monday upheld the Centre's decision to stop the channel's transmission for 10 days and also imposed a fine of Rs 20,000 payable to the Centre.
"We have carefully perused the contents of the two programmes to which objection has been taken and having gone through the same, are of the opinion that the matter requires no interference.
"The appellant is engaged in a business/enterprise which owing to its mass appeal/base has the potential of influencing the thought, behaviour and conduct of the citizens, especially the future citizens of this country," the court had said dismissing the plea of Viacom 18, which owns the channel.
Viacom 18 had approached the division bench against a single judge order upholding the Centre's decision saying, "Prohibition of transmission will cause irreparable loss and damage to the appellant. It will also put an end to the popularity and the viability, commercially or otherwise, of the channel."
The channel had also claimed that transmission is its fundamental right and said, "The right to operate and broadcast television channel is protected under Article 19 of the Constitution. In this view of the matter, the appellants submit that they are entitled to fundamental rights guaranteed under the Constitution."
But the court said, "Merely because the government has done away with the system of checks, does not entitle such entrepreneurs to commence an enterprise in a half-baked manner."
Earlier, on May 24, the single judge of the high court had upheld the Centre's decision banning the transmission of the channel for 10 days from May 25 to June 4.
Accepting the recommendation of Inter-Ministerial Council (IMC), the Information & Broadcasting Ministry had on May 17 had asked Comedy Central to go off air for telecasting "offensive" words in 'Stand Up Club' and 'Popcorn' programmes on May 26 and July 4 last year.
The ministry had prohibited the channel's transmission or retransmission for 10 days on any platform throughout India with effect from 00:01 hours on May 25 till 00:01 hours on June 4.
Dismissing the plea of Viacom 18 Media Pvt Ltd, the single judge bench of the high court had said the penalty prohibiting the telecast of the channel for 10 days cannot be termed as "excessive, harsh or unreasonable".