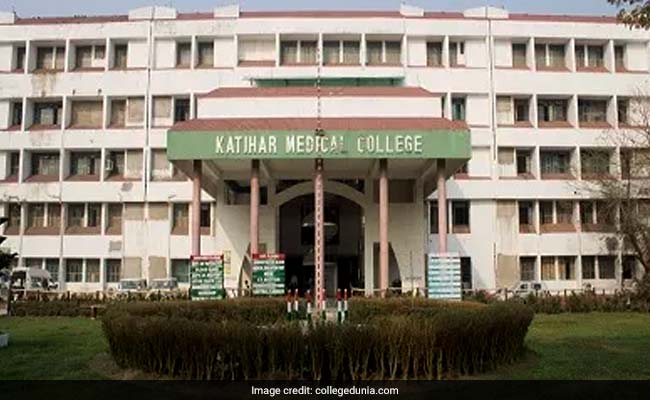 Patna:
An FIR has been lodged against a medial college owned by an RJD lawmaker from Bihar for allegedly publishing a prospectus featuring a map of India without Pakistan-occupied Kashmir (PoK) in it, police said.
The incident triggered sharp reactions from the ruling BJP-JD(U) alliance, which termed it an act of sedition.
In its prospectus for the 2018-19 session, the Katihar Medical College and Hospital (KMCH) has not shown PoK in India's map. The college authorities said it was an error committed by the printing press and that it was being rectified.
Ahmad Ashfaque Karim was elected to the Rajya Sabha as an RJD nominee along with five others in March this year.
On the directive of the district magistrate, an FIR was lodged with Katihar Mufassil police station on Sunday evening against the KMCH management and others for distorting the map of India, Katihar Sub-Divisional Police Officer Anil Kumar said.
After a video on the truncated Indian map went viral on social media, the district administration sent Anil Kumar and Katihar Sub-Divisional Magistrate Niraj Kumar to Katihar Medical College and Hospital for an enquiry.
They seized the prospectus in question and some other documents from the medical college, Anil Kumar said.
The FIR was registered after Niraj Kumar submitted his report to Katihar District Magistrate Punam.
Katihar Medical College and Hospital owner and RJD MP Ahmad Ashfaque Karim said it was not his fault and that the printing press was to be blamed for the mistake.
"It is a big mistake which should not have happened. It is an error by the printing press. We had asked the press to rectify the error on April 24 itself. The prospectus is not being sold for the past 15 days," Mr Karim told a news channel.
When questioned, he said, "Entire Jammu and Kashmir is an integral part of India. None can separate it from the country."
Reacting to the incident, union minister and BJP leader Giriraj Singh described it as an act of sedition.
Referring to the ongoing controversy over a portrait of Muhammad Ali Jinnah on the Aligarh Muslim University campus, Giriraj Singh said "Jinnah's jinn (spirit) has entered in India".
JD(U) spokesman Ajay Alok demanded that President Ram Nath Kovind and Rajya Sabha Chairman M Venkaiah Naidu look into the issue immediately. Training his guns at RJD chief Lalu Prasad for sending Mr Karim to the Rajya Sabha, Mr Alok said the country is facing such a situation because of "anti-national elements".
RJD vice-president Shivanand Tiwari said he has not seen the Katihar Medical College and Hospital prospectus but agreed that the medical college authorities should apologise to the people of India.
"I have not spoken to Ashfaque Karim on this issue. But if such a thing has happened even by mistake, the college administration should say sorry and rectify the mistake," Mr Tiwari said.