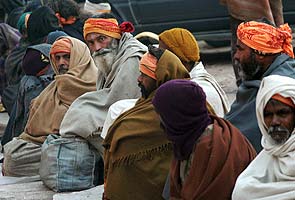 Shimla:
The intense cold wave conditions continued in the tribal areas and higher hills of Himachal Pradesh even as the day temperatures rose marginally in mid and lower hills.
Keylong and Kalpa in tribal Lahaul and Spiti and Kinnaur districts reeled under piercing cold wave with mercury staying at minus 1.8 degree and 2.4 degree Celsius.
Meanwhile, Manali recorded a low of 3.0 degree C followed by 7.1 degree, Chamba and Sundernagar 8.6 degree, Solan 9.0 degree, Shimla 9.8 degree, Dharamsala 12.2 degree, Una 13.0 degree and Nahan 13.3 degree C respectively, two to five degree below normal.
Una was hottest in the region with maximum temperature at 33.4 degree Celsius while Sundernagar recorded a high of 29.9 degree, followed by Bhunter 28.5 degree, Nahan 28.4 degree, Solan 26.6 degree, Dharamsala 24.2 degree, Shimla 20.4 degree and Kalpa 16.0 degree C respectively.
The local MeT office has predicted dry weather during next the 48 hours and rains and snow from April 8 onwards due to a fresh Western Disturbance as an upper air system from April 6, 2013 onwards.