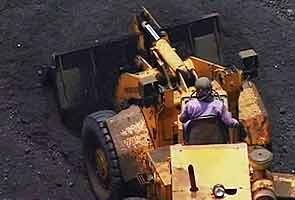 New Delhi:
Up against allegations that the government implemented a coal policy that provided windfall benefits to private players and cost the country thousands of crores, the Coal Ministry has decided today to de-allocate four coal blocks given to companies who did not develop them within the deadlines specified in their contracts.
The recommendation for revoking these coal permits was made by an inter-ministerial group (IMG) which is studying 58 companies, public and private, who have not made adequate progress and were sent notices in April. The IMG met representatives of 29 private firms last week to hear their defense. Today's recommendations are the first offered by the IMG since it was set up in July.
The companies whose coal blocks will be taken away include Castron Mining Limited, Fieldmining and Ispat Limited, and DOMCO Smokeless Fuels Pvt. Limited.
A company named Shri Virangana Steels Limited will lose a portion of the bank guarantee it provided when it filed its application.
Monnet Ispat and Energy Limite has made substantial progress in the coal block it was given but did not provide a bank guarantee. It will now have to submit an amount that equal to three years royalty within a month or lose it coal block.
Action against defaulters and under-achievers was promised by the government after a report by the national auditor said the government had lost upto 1.86 lakh crores because its coal allocation policy was not transparent. The auditor or CAG said coal fields should have been auctioned. The government responded that earlier laws did not allow for a competitive bidding process, and that the extensive process required to change policy would have hurt industrial development and the economy.
Its defense has been somewhat punctured by the fact that a long list of firms that got coal fields at a fraction of their true worth then failed to begin mining. While the inter-ministerial group is looking at companies guilty of squatting, the CBI has begun filing cases against firms and their executives who misreported their finances and technical expertise to corner coal blocks.
The coal scandal paralysed the last session of parliament because of daily disruptions by the main opposition party, the BJP, which is demanding the PM's resignation over "coal-gate."