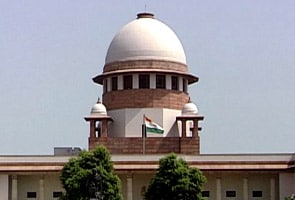 New Delhi:
A young law student from Delhi has gone to the Supreme Court to challenge a controversial law that was used to arrest two young women recently in Maharashtra for their posts on Facebook.
Shreya Singhal from Delhi has filed a Public Interest Litigation (PIL) that describes Section 66(A) of the Information and Technology Act as unconstitutional - it allows for arrests based on messages that are offensive or annoying and are sent electronically. "I feel it is a violation of free speech, it hasn't been updated, and people are using it wrongly," Ms Singhal told NDTV. (Read:
Why a Delhi student has challenged the law used for Facebook arrests
)
The Chief Justice of India, Altmas Kabir, agreed with the exigent need to revisit the law. "The way the little children were arrested, it outraged the sentiments of the country. The way these things had been taking place needs some consideration so that in future it does not take place," he said, referring to the arrests of two women in their 20s - on Facebook, one was critical of the near shutdown of Mumbai after the death of Shiv Sena president Bal Thackeray; the other liked her post. "We were wondering why no one has approached the Supreme Court (over this) and even thought of taking up the issue suo moto," the Chief Justice said.
Section 66A of the IT Act, framed in 2008, provides for upto three years in jail as punishment for sending "offensive" or "annoying" messages which the sender knows are false through a computer or communication device. Critics say that the law needs to be reworded more precisely, and that potential violations must be clearly defined.
Telecom Minister Kapil Sibal met with civil society activists and other stakeholders for internet freedom today. He said that states have been informed that to prevent the misuse of Section 66(A), a senior police officer (of Inspector General rank in urban areas, for example) will have to sanction the registration of any cases under this law. However, the government at this point is reportedly not looking at clearly defining what sort of content would qualify as "annoying" or "offensive" messages. Mr Sibal has promised to meet all stakeholders every quarter to assess how the law is being implemented.