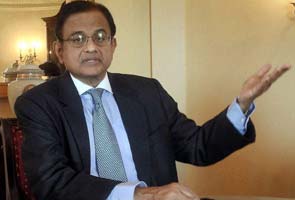 Washington:
Finance Minister P Chidambaram has flagged to the US Indian concerns over the proposed "discriminatory" fee hike for H-1B visas coveted by Indian techies, saying "knowledge workers" should not be confused with immigrants.
The minister, who is in Washington to attend the annual International Monetary Fund-World Bank spring meeting, flagged Indian concerns at a meeting on Friday with new US Treasury Secretary Jack Lew as they did a "tour of the horizon" of issues between the two countries.
While the Indian embassy in Washington and the departments concerned would "carefully go through the bill" running into 840 pages "there are some provisions related to the H-1B and L1 visas which require a higher application fee if a certain threshold is crossed in employing Indians on site," he told reporters.
Noting that the bill proposed by the Senate Gang of Eight is of immigration, Chidambaram said he told Lew that "temporary relocation of knowledge workers on site to service a client should not be confused with immigration".
"I hope the point is taken," he said.
Chidambram said he had also proposed that the next India-US Economic Dialogue be held in Washington along with CEO's Forum meeting on July 11 and 12. The US has not confirmed the dates yet.
The Confederation of Indian Industry (CII) has also voiced concern that the H-1B visas provision "would be against the interests of Indian companies and create an unequal playing field for them".
Urging the US Congress to reject "such discriminatory provisions," CII Director General Chandrajit Banerjee has said: "Action specifically targeting Indian companies would not be in accord with our growing strategic partnership."