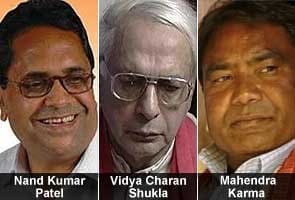 Raipur/New Delhi:
Around 250 Naxals in civilian clothes struck a convoy of Congress leaders during the party's Parivartan Rally in Chhattisgarh's Jagdalpur on Saturday, killing at least 25 people, including state Congress chief Nand Kumar Patel and senior party leader Mahendra Karma. (
Track live updates
)
Mr Patel had been missing since the attack. His body was found today morning near the site of the attack. State Congress spokesperson Rajesh Bissa said Mr Patel's son, who was also kidnapped yesterday, was found dead this morning.
Former legislator Uday Kumar Mudaliar was also killed in the attack. Thirty two people, including 20 policemen, who were accompanying the convoy which was on its way back from Sukma to Jagdalpur, were also injured in the attack.
Mr Karma was a local tribal leader, who spearheaded the controversial anti-Naxalite movement Salwa Judum. He had served as the state's home minister when the Congress was in power. He had Z-plus security, which meant that at least 30 policemen guarded him.
"When our cars reached a turning point, the Naxals started firing. Two cars were blown up and the firing continued for almost one and a half hours. Many people were killed and many sustained bullet injuries, some of us lay on the road to save ourselves," an injured Congress worker said at the hospital in Jagdalpur. (
Read: How the deadly attack unfolded
)
Former Union minister and senior Congress leader VC Shukla was injured in the attack and was air-lifted to state capital Raipur. He was today brought to Delhi for further treatment. He has sustained three bullet injuries and his lungs and liver are damaged.
Congress vice-president Rahul Gandhi reached Raipur late last night and met Mr Shukla and other injured at the hospital.
"It is not an attack on Congress, it is an attack on democracy. But, we'll not fear from such an attack and continue to move forward with enthusiasm," Mr Gandhi said. He is still in Raipur.
Prime Minister Manmohan Singh and Congress president Sonia Gandhi too condemned the attack, calling it a dastardly attack and an attack on democracy. The Prime Minister has extended all aid necessary to the Chhattisgarh government. He spoke to Chief Minister Raman Singh and insisted on immediate assistance to injured, and the safety of those who may have been abducted.
Both the Prime Minister and Mrs Gandhi will travel to Chhattisgarh today. (
Read
)
In the state, Congress leaders have alleged that party leaders were not provided adequate security by the BJP dispensation despite Naxal threats. Former chief minister Ajit Jogi, who was present at the rally, said, "I can't believe that people who I met just a few hours earlier have been attacked. There were no adequate security arrangements. I request the PM that there is no remedy and President's Rule must be imposed and we must take on the Naxalites head on." (
Read: Reactions
)
Reacting to Mr Jogi's comments, Congress vice-president Rahul Gandhi said, "It is not time to do politics here. It's a very sad incident and we all have to stand by it together," he said.
Assembly elections are scheduled in Chhattisgarh later this year.