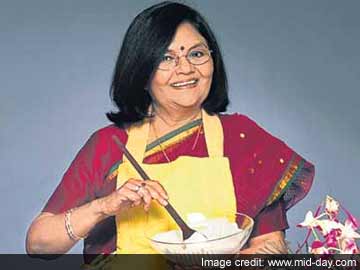 New Delhi:
Tarla Dalal, one of India's most celebrated chefs and prolific cookbook writers, died of a heart attack in Mumbai this morning. She was 77.
Ms Dalal taught many Indians to make big, fluffy bhaturas and soft, perfect idlis in their kitchens, demystifying the most intricate dishes with easy-to-follow recipes in over 100 cookbooks that sold three million copies.
More recently, these were also hosted on her website,
tarladalal.com
, said to be one of the largest food websites in Asia.
Ms Dalal did not just make cooking traditional dishes like kadhi or navratan korma easy; she is also credited with creating a mind-boggling 17,000 recipes.
Long before Nigella Lawson or Sanjeev Kapoor closer home became TV celebrities, Tarla Dalal cooked on TV and later had her own show "Cook It Up With Tarla Dalal."
But Ms Dalal was a celebrity even before television came to India. Her career in food began almost 40 years ago, when she began holding cookery classes at her home in 1966. Soon, she had a waiting list of students clamouring to sign up.
Her first cookbook, the Pleasures of Vegetarian Cooking, was published in 1974 and her books have been translated into many Indian and foreign languages.
She wrote cookbooks for pregnant women, for children, and, in 2007, moved right with the times to write books under the "Total Health Series".
Ms Dalal was awarded the Padma Shri in 2007.
She died early morning on Wednesday at her south Mumbai home and is survived by three children
Her team posted on Facebook, "We would like to thank all of you for your support and affection through the years of Mrs. Tarla Dalal's career. She is no more with us as she expired in the early hours of this morning. We thank her for all the happiness that her talent has given to us and our families..."