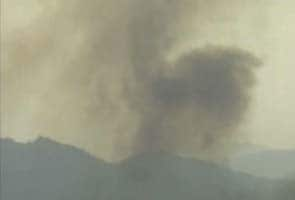 Poonch, Jammu & Kashmir:
After a period of brief lull, Pakistani troops resumed firing at Indian posts situated at the Line of Control (LoC) in the Krishna Ghati sector of Poonch district in Jammu & Kashmir today, forcing the Indian side to retaliate in defence.
At least two Indian soldiers have been killed and five others have been injured in the heavy exchange of fire that continued for the seventh day today. But despite repeated requests from the Indian side, Pakistan has so far refused to hold flag meetings.
"We have sent a hotline message to Pakistan Army and called for a Brigade commander-level flag meeting to discuss the issues of increasing incidents of firing and ceasefire violations in Poonch sector", a senior Army officer told the Press Trust of India.
"Usually, a Commandant-level flag meeting is held on the LoC to sort out the differences, but this time we have called for Brigade Commander level meeting," he added.
Earlier, Pakistan had cancelled a Commandant (Col)-level meeting, scheduled to be held on June 16, without assigning any reason.
The army official said that the matter is of greater concern since this time, Pakistani troops directly fired on Indian army troops guarding the borderline in Poonch unlike in the past when they used to target posts. The series of firing is hence being seen as a major breach of ceasefire agreement signed between India and Pakistan in November 2003.
As a fallout of the escalating tension between the two countries, cross LoC trade and bus services have been suspended. "This time it has taken a serious turn. Many causalities have also taken place and for this reason the trade is suspended and today we have stopped the cross LoC bus service too," Ajit Kumar Sahu, the Deputy Commissioner of Poonch told NDTV yesterday.
PTI quotes a defence spokesman as saying that when Pakistani troops first opened heavy fire on Indian posts along the LoC in Nangiikri-Krishnagati sub-sector, the Indian army exercised restraint and asked the Pakistani army to investigate the matter. But it retaliated when the Pakistani side, instead of responding to the Indian message, continued to open fire.