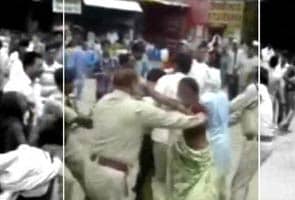 Bhopal:
In yet another all-too-familiar incident of police brutality, a senior police official in Shivpuri district of Madhya Pradesh was caught on camera thrashing a woman protester.
The woman, protesting with the body of her relative, reportedly wanted to register a murder complaint before the corpse could be taken for post-mortem.
The fracas began when other relatives of the deceased, along with a few locals, gathered at the Police Assistance Booth in Karera town in Shivpuri on Friday, demanding the filing of the FIR.
The protesters alleged that the police refused to comply and when they pressed for their demands, violence broke out during which Thana in-charge Indrajit Singh Chauhan sustained some injuries.
The police was quick to retaliate and Mr Chauhan was caught on camera assaulting the woman.
The Congress blamed the Bharatiya Janata Party or BJP government for the violence. Congress spokesperson Pankaj Chaturvedi said, "This is the real face of the BJP police in Madhya Pradesh. The Congress will oppose if no action is taken. This is vote-bank politics. Law and order condition is declining day by day."
The BJP, however, assured action. "The police must stay within limits. Beating up a woman is wrong. Investigation must go on and action will be taken up," said Alok Sanjar of the BJP.