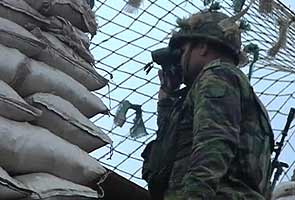 Poonch, Jammu:
The guns have not fallen silent for 10 days at the Line of Control in Jammu and Kashmir.
Massive exchange of fire between Indian and Pakistani troops went on overnight and continues in the Poonch district, where the Indian Army retaliated strongly after Pakistani troops opened fire at Indian posts on Thursday and injured three jawans - the 10th ceasefire violation by Pakistan in one week.
Firing has been relentless in several sectors of the Poonch district, where the killing of five Indian soldiers on August 6 by Pakistanis set the tone for a spurt in hostilities along the border.
In villages along the border, people sit cowering in their bullet-riddled houses as Pakistani shells and rockets land intermittently. They live in fear of a fresh wave of migration after the exodus of the1990s, when India-Pakistan tensions peaked.
"We never know when Pakistan will start firing, the entire village is terrorized," says Jasbir Singh of Salotri village, who left his home once before, but returned with his family only after the ceasefire agreement of November, 2003.
The army says more than a dozen militants have been killed in different counter infiltration operations earlier this month in North Kashmir.
At the Sabziyan sector of Poonch, Joginder Singh and other soldiers of the Border Security Force (BSF) are patrolling the fence almost round the clock, standing guard in grueling 20 hour shifts.
Two weeks on, they still mourn their comrades killed in the Pakistani ambush.
"Whenever Pakistan pushes in infiltrators into India, our job is to stop them and to kill them if they are sighted," says Sipahi Ram Kumar.
The Army says Pakistan-based militant groups had intensified infiltration attempts along the border and at least 250 to 300 militants are waiting on the other side of the LoC, ready to cross over into India.
This is the worst threat to the decade-old ceasefire along the Line of Control. The army says it is responding in equal measure, but it offers little reassurance to thousands of villagers living in constant fear.
Top Indian sources say they expect ceasefire violations and infiltration attempts from across the border to increase ahead of general elections in India just months away.