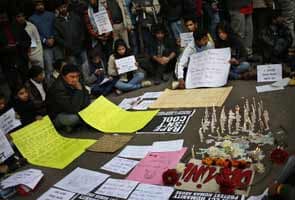 New Delhi:
Home Minister Sushil Kumar Shinde today agreed that the death of
Ram Singh
, the man who led the gang that fatally attacked and raped a medical student on a Delhi bus, is a "grave lapse" and "not a minor incident." (
Latest Developments
)
Unlike Tihar Jail officials, who have said Ram Singh committed suicide, the minister said that conclusion is premature till an enquiry is completed.
Ram Singh was found hanging
from the ceiling of his small cell at 5 am by a constable. Jail officials claim that his three cell-mates slept through the hanging, and that he used his shirt and part of his sleeping mat to construct a rope. They could not confirm how he was able to suspend the rope from the grille of a ceiling that was at least 10 feet high.
His family and lawyers have alleged murder. Ram Singh's parents say they met him with his five-year-old son last week, and that though he complained of being tortured in prison, he seemed cheerful.
Lawyers for Ram Singh and the four other men who are charged with gang-rape and murder have argued before that the group was being harassed in jail by other inmates, who often threatened them.
The four men today asked the judge of the fast-track court where they are being tried
to move them from Tihar Jail.
A sixth suspect is a juvenile and is being tried separately.
India reacted with large and furious protects to the horrific attack on the student in December. She died in a Singapore hospital 13 days later.