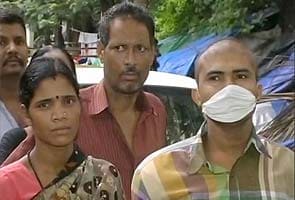 Mumbai:
He lives under a tarpaulin sheet outside a sprawling Mumbai hospital, getting treatment for cancer. But at this moment, 32-year-old Phagulal Chandravanshi fears the police more than the disease.
Chandravanshi, a shepherd, sold his land and cattle in Seoni, Madhya Pradesh, to pay for his cancer treatment in Mumbai. Now he lives in fear of being evicted from the pavement which has been his home and hospital ward.
According to the Mumbai Police, he is a security risk that can't be allowed near the hospital.
"We don't have anywhere to go. Now they ask us to get off the footpath. Where do we go?" Chandravanshi told NDTV.
He is just one among hundreds of poor patients who have been coming for treatment to the Tata Memorial Hospital in Mumbai, but have been forced to live in makeshift tents outside the hospital as they can't afford a hospital bed or a hotel.
But these cancer patients face losing even this piece of pavement called home. The Mumbai Police have written to the city's civic body, the Brihanmumbai Municipal Corporation (BMC) to remove them from the pavement.
Helpless and poor cancer patients, a security hazard to Maximum City?
"Crowded places like hospitals are soft targets for terrorists and crowds outside the hospital make them even more vulnerable," said a cop in the area's Bhoiwada police station. "Besides, we have no way of verifying who is living in those tents."
Sanjay Kumar, a daily wage labourer, has no option but to stay in Mumbai, far away from his children back in Uttar Pradesh, for the treatment of his wife Sheelam, who has a cancerous tumour in her knee.
"We are living here because we have no choice. Please let us be," he pleaded, fighting for their only shelter from Mumbai's torrential monsoon rains, a plastic sheet.