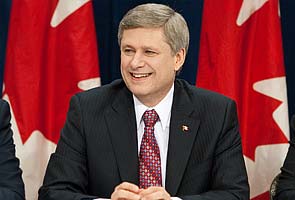 Toronto:
Ahead of his India visit on Friday, Canadian Prime Minister Stephen Harper has joined the Indo-Canadians at the 12th Annual National Diwali Celebration on Parliament Hill in Ottawa to honour the Festival of Lights.
"This National Diwali Celebration, now in its 12th year, spreads goodwill between cultures and reinforces the close friendship between India and Canada," the Prime Minister said in a statement on Thursday.
"With nearly one million Indo-Canadians living in Canada today, we are all very grateful for their contributions to our country and look forward to celebrating this festival honouring their culture. Diwali, also known as the Festival of Lights, commemorates the triumph of good over evil and of light over darkness," Mr Harper said.
Canada and India share strong historic ties and a solid working relationship, he added.
Mr Harper will travel to India on Friday where he will meet Prime Minister Manmohan Singh and other ministers and officials from the Indian government.
A festival of lights was also held in Toronto in which the Ontario Premier Dalton McGuinty joined the Indo-Canadians at a function held at the Queen's Park there.
The function was organised by the Consulate General of India and Panorama India.