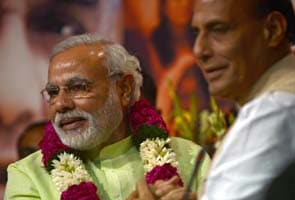 New Delhi:
Narendra Modi's first stop after being declared the BJP's candidate for prime minister was the residence of LK Advani.
Mr Advani has not been discreet about his opposition to his party's decision. The 85-year-old skipped the meeting of top leaders this evening that culminated in the announcement of Mr Modi's selection. In a letter to party chief Rajnath Singh, he said he is "anguished" by his style of functioning. (
Read Advani's letter on skipping Modi's announcement
)
Mr Singh later told reporters that the BJP has not sidelined its most-senior leader by over-ruling him. "Sheer hard work of Atalji and Advaniji... and the wishes lakhs of its workers and the blessings of the national leadership, all these will enable BJP in attaining success," he said.
Today's decision caps the rise of Mr Modi in the party, which has spent nearly a decade in the political wilderness. (
Modi's journey from RSS worker to BJP's PM candidate
)
He smiled while posing for photos and wearing a garland of flowers.
"I seek the blessings of millions of Indians to join our effort to steer the country out of these perilous days," he said in his first comments, declining to take questions from waiting journalists.
In June, when Mr Modi was selected to head the BJP's campaign in the 2014 elections, Mr Advani had resigned from top party posts in protest, but returned to the fold 24 hours later.
A group within the BJP headed by Mr Advani feels that he is too divisive a figure to lead the party back to power. Though Mr Modi is credited with pro-reform policies that have made Gujarat a rich economy, he is tainted by the riots in his state in 2002 in which hundreds of Muslims were killed.
Mr Advani had petitioned the BJP to test Mr Modi's appeal in five state elections in November before making him its official choice for PM. Though other big hitters within the BJP like Sushma Swaraj and Murli Manohar Joshi supported his view, they were persuaded to back the party's stand today.