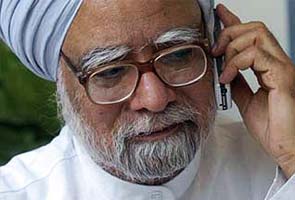 New Delhi:
A series of missed calls and messages is now turning into the centre of a renewed hardening of stands between the Congress and the Trinamool Congress (TMC) as part of the political drama being played out after the withdrawal of TMC's support to the UPA. The TMC has now contradicted the Congress which had said that
Mamata Banerjee
refused to respond to the Prime Minister on the issue of reforms over which she pulled support from the government.
(Poll: Should the government give in to Mamata Banerjee?)
Ms Banerjee said on her Facebook page that Finance Minister P Chidambaram had "concocted" the fact that the PM had called her and she failed to get back to him.
The Congress says that after announcing bold new reforms to decrease subsidies on fuel and open up the retail sector to foreign companies, the PM called Ms Banerjee twice, but his calls were not returned. "We are still waiting," Finance Minister P Chidambaram said.
The Trinamool has publicly contradicted this claim. TMC minister Mukul Roy said at a press conference being addressed by Ms Banerjee that he was never told by anyone in government to pass the message to Ms Banerjee that the PM wanted to speak to her. An angry Ms Banerjee said, "Congress leaders shouldn't distort the facts. If they wanted to talk, why didn't they talk?"
The calls was apparently made by the PM to explain the reforms measures that he was taking. Congress spokesperson Janardhan Dwivedi added today that his party president Sonia Gandhi tried to talk to Ms Banerjee last night, but did not manage to reach her. Ms Gandhi got a message that the TMC chief wanted to speak to her, but the Congress president was unable to get through. The Congress says it told Saugata Roy, a minister in Ms Banerjee's party, that Mrs Gandhi was keen to talk to the West Bengal Chief Minister.
When she announced her decision last night, Ms Banerjee said in Kolkata that she had SMS-ed Congress president Sonia Gandhi on Friday as well, when the reforms were decided. "I sent a message to Sonia ji too...I told her four days ago...that we cannot accept this...she was not able to change things. My personal relationship will continue with them" Ms Banerjee said.
Ms Banerjee showed the SMS to her party colleagues yesterday and said that she waited for a response till last evening, but didn't get any response. The signal: she had given the government a chance which it didn't take, or want to take.
(
With PTI inputs
)