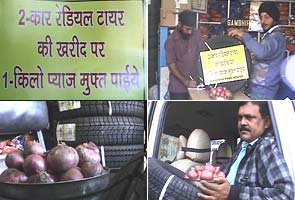 Jamshedpur:
A four-wheeler tyre seller has been offering onion free on purchase of tyre from his shop.
"We are offering five kg onion free on the purchase of a truck tyre and one kg on the purchase of a car tyre," Satnam Singh Gambhir, a tyre seller of Kalimati Road in Sakchi said.
Gambhir is also the president of All India Sikh Students' Federation of Bihar and Jharkhand.
He said the move was meant to show discontent among people for heavy rise in onion price for the past few days. Earlier, he gave discount on the purchase of tyre to encourage people to cast votes during the last assembly polls in Jharkhand.