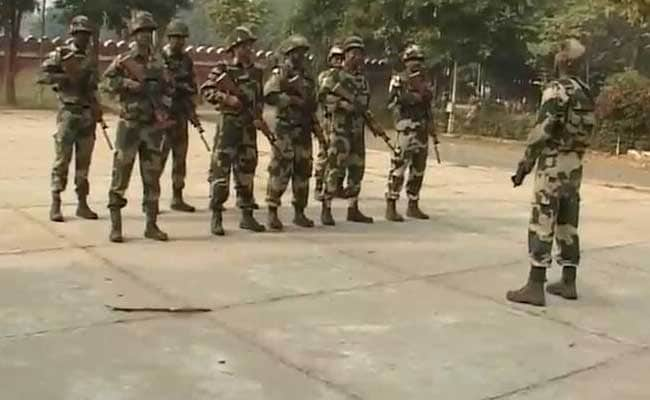 New Delhi:
More Border Security Force (BSF) personnel are dying of mental illness and lifestyle diseases than in line of duty, BSF Director General KK Sharma said.
He said the analysis has been made after a study was conducted among the 2.5 lakh personnel strong force.
"Recent studies within the force have indicated that number of deaths of force personnel was more due to illness (both physical and mental) than being operational casualties. Our studies through the medical directorate of Border Security Force have listed out many indicators of lifestyle diseases as well," he said.
Mr Sharma, however, did not mention the time-frame of the studies conducted.
The BSF DG was speaking at the inauguration of a workshop on 'Mental health and well-being of CAPF personnel through Global Health Assessment Tools (GMHAT) in the capital.
He said his force has taken some remedial measures to control lifestyle diseases by including yoga in the daily routine of jawans and officers.
The force has also ordered for a change in the dietary habits and batted for regular medical examination of troops, he said.
"While the care for physical health is given due emphasis, the same emphasis for mental health of personnel has remained neglected," Mr Sharma said.
The BSF DG said the force was also trying to address issues like jawan suicides and fratricides once the "medical staff of the paramilitary become capable enough to diagnose the symptoms and elicit the signs of such illness".
A data, accessed by PTI last year, had revealed that only 25 of total 774 deaths of BSF personnel between January 2015 and September 2016 were battle casualties.
It had showed that while a total of 25 personnel were killed in action, 316 died due to a variety of diseases and illnesses and 117 suffered fatal cardiac arrest.
The paramilitary forces or the Central Armed Police Forces (CAPFs) have begun undertaking new measures to keep a check on such issues, especially disease-related deaths in their respective forces.
Professor Vimal Kumar Sharma of International Health Development at the University of Chester said the diagnosis of mental illness was of paramount importance.
"Since CAPF personnel work in some of the most challenging situations, it is not only our task but also our duty to look after them," he said while addressing the workshop.
The two-day workshop, being held at a BSF camp, is meant for doctors and other medical staff of forces like CRPF, ITBP, SSB and CISF.