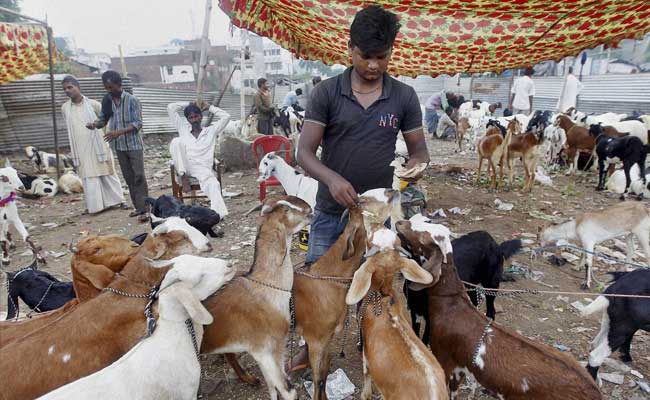 Mumbai:
The Bombay High Court has held that city residents are entitled to sacrifice goats on the occasion of Bakrid, subject to terms and conditions laid down in the licences obtained by them from local authorities.
A bench of Justices SJ Kathawala and SC Gupte observed this yesterday while rejecting the plea of two residents of a cooperative housing society in South Mumbai who opposed the slaughter of goats in the building premises by their three neighbours.
The trio had obtained licences from the civic body to slaughter 10 goats on the occasion of Bakrid.
The order was issued in the judges' chambers as the High Court was closed yesterday and today.
The bench observed that the residents of the building, Simla House at Napean Sea Road, had obtained licence and permission from the Brihanmumbai Municipal Corporation to slaughter goats and thus, they are entitled to do so.
However, they would have to strictly abide by the conditions imposed in the licences.
The judges said they would not be able to restrain authorities to stop issuing licences for slaughtering animals on Bakrid as people have a right to practice their religion, but such acts would be subject to rules and conditions mentioned in the licences.
However, the court directed that the goats should be sacrificed on the terrace of the building and asked the licence holders to strictly follow the conditions.
The petitioners argued that slaughtering of animals in the building premises was unhygienic and this practice should not be allowed when there are slaughter houses in the city.
The lawyer for the respondents, Mubin Solkar, showed the court licences issued by the civic body to slaughter goats. He also assured the court that they would abide by all the conditions mentioned in the licences.
He denied allegations made by other residents that the animals would be sacrificed at the entrance of the building.
After perusing the licences, the bench observed that the licences were issued in the names of the residents who had applied for sacrificing goats in the building. Only one of the licence was issued in the name of the building.
"Though we are not happy with the manner in which the particulars are mentioned by the authorities on the licences, not mentioning description of the place of slaughter, we are satisfied that the same are issued to the respondents and pertain to slaughtering of goats," the bench said.
Accordingly, the judges allowed the residents to slaughter 10 goats in the building and rejected the plea of two others to stop the practice.