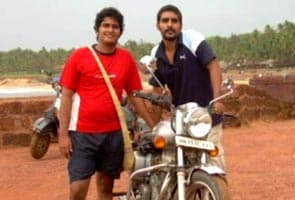 Last year, Keenan Santos, 24, and his best friend Reuben Fernandes were out with a group of friends, including some girls, when some men began sexually harassing the women. Keenan and Reuben intervened and were beaten by the men so badly that they died.
Keenan's father, Vallarine Santos, shares his thoughts on the gang-rape of a young women in Delhi, which has outraged India. This is his blog as shared with ndtv.com's Amit Chaturvedi:
I wrote this letter because even after my son sacrificed his life, nothing has been done about women's molestation. These things are going on. So, it's high time that the Prime Minister should intervene and do something. (
Read: Mr Vallarine Santos' letter to the Prime Minister
)

We had given a petition to Maharashtra Home Minister RR Patil in December last year saying sections against women molestation should be made non-bailable. But nothing has been done. Some stringent laws need to come out now. The incident in Delhi is a gruesome one, so stringent laws are the need of the hour.
My boy sacrificed his life but the authorities have not woken up. And if anything is still not done, it's possible that we will take out a march - that will be a peaceful march. Because something has to be done.
I demand that when a verdict is given in these cases, it should be equivalent to Section 302 of the IPC. If murder is killing the body, this is actually killing the soul. The girl will live with the trauma for her entire life. Why should she be tortured day after day while the accused just suffers a jail sentence? And he is free after that!
I also want that the police should be sensitised. What happens now when a woman being eve-teased or molested goes to lodge a complaint? The policemen ask thousands of questions but nothing is done. And what if she is being followed and wants to file a police complaint against that? The policemen will says, "
Tumko kuchh kiya to nahi na? Dekhenge
." So, we have to take preventive measures not just fire-fighting.
I am coming to Delhi and plan to meet the Prime Minister, but nothing has been finalised yet.
Disclaimer: The opinions expressed within this blog are the personal opinions of the author. NDTV is not responsible for the accuracy, completeness, suitability, or validity of any information on this blog. All information is provided on an as-is basis. The information, facts or opinions appearing on the blog do not reflect the views of NDTV and NDTV does not assume any responsibility or liability for the same.