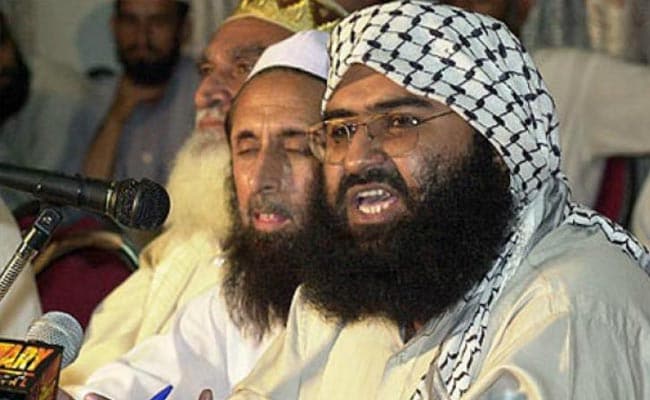 Highlights
China last week blocked India's move against Masood Azhar at UN
India has to now move fresh petition to have him blacklisted
India starts talks with other countries to get their backing
New Delhi:
After China shot down
India's attempt last week to have terrorist Masood Azhar declared a terrorist
by the UN, Delhi is lobbying other countries - especially the UK, US and France - to back a new attempt.
Masood Azhar is the 48-year-old chief of the Jaish-e-Mohammed. In 2001, the group was blacklisted by the UN Security Council for links to Al Qaeda, but Azhar was exempted. If he is added to the UN list, he will face a global travel ban and asset freeze.
In April, India moved a resolution seeking the addition of Azhar to the list of terrorists and terror syndicates, but China used "a technical hold" to suspend the action, a gesture of support for its close ally, Pakistan, which is where Azhar lives and moves freely. Then last week,
China blocked or vetoed the resolution definitively
, which means that Delhi has to prep and move a new resolution. All Security Council members must unanimously approve the action India wants, so Delhi is asking heavyweights like the US to pressure China into acquiescence.
Of the 15 members of the UN Security Council, China alone objected to India's petition,
stating that there were different views about the case
, and that Beijing shelved the move a few times to allow consultation, but that no consensus had emerged.
Azhar has been named by India for masterminding several deadly attacks, including the assault a year ago on the Pathakot air force base in which seven military personnel were killed. Pakistan says an inquiry has revealed no evidence of Azhar's involvement.
"We had expected China would have been more understanding of the danger posed to all by terrorism," Foreign Ministry spokesperson Vikas Swarup said last week, adding that that the inability of the international community to take the step showed the "prevalence of double standards in the fight against terrorism".