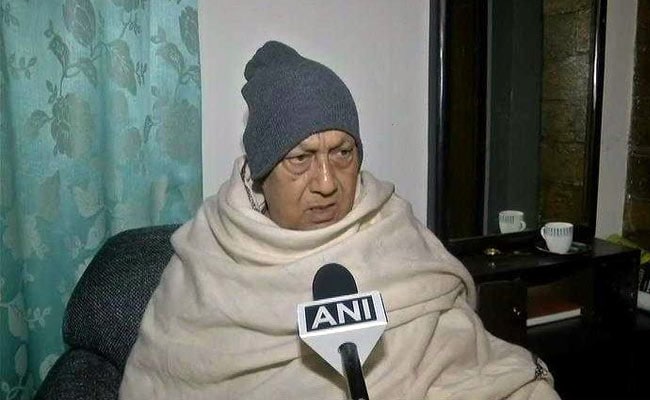 New Delhi:
As the country mourns the five CRPF personnel who died in a terror attack in Jammu and Kashmir yesterday, BJP lawmaker Nepal Singh sparked outrage with a comment that was seen as an insult to the soldiers.
"Soldiers will die every day. Is there a nation where army-men don't die? When there is a scuffle in a village, someone is bound to get injured" the lawmaker from Rampur told reporters when asked about the attack. He went on to add, "Is there a device that stops bullets? Is there anything that can stop death? If so, we will get it prepared".
The 77-year-old later retracted his statement, saying he had intended no disrespect to the army. "I have not insulted the army. I'm sorry, I apologise, but I have not said any such thing."
Twitter, however, was in no mood to forgive.
Unfortunate comment from Rampur MP Nepal Singh. If can't speak or do good then better keep your mouth shut.
He is also one of the laziest MP I have known so far. https://t.co/v2nGfoF975

— #SavePriyanshu (@crowngaurav) January 2, 2018
Others demanded that steps be taken against the lawmaker. Appeals to Prime Minister Narendra Modi and BJP chief Amit Shah to take strong action flooded Twitter.
Dear @narendramodi Sir,
Please send this BJP MP Nepal Singh to Nepal or Pulkistan.
Jawaan ka apmaan nahi sahega Hindustan. https://t.co/snr3Abre2g

— Saniya Sayed (@Ssaniya25) January 2, 2018
I strongly demand from @BJP4India to sack the MP Nepal Singh and try him in court of law.

— Ashish Ranjan (@aashishranjann) January 2, 2018
Sir @AmitShah@AmitShahOffice pls take strict action against Mr. Nepal Singh so that a good message goes into party members and public as well.
Hope to get your positive answer. Thanks.@BJP4India@narendramodi

— Gaurav Mehta (@gmjecks) January 2, 2018
The five men of the Central Reserve Police Force had died in Pulwama in a post-midnight terror attack on New Year's day. Three terrorists had targeted the building that serves as their training centre. The terrorists had been killed after a 36-hour gun-battle.
Union home minister Rajnath Singh had commended the soldiers, saying, "I appreciate all our soldiers for their sincere efforts to gun down terrorists at the border".