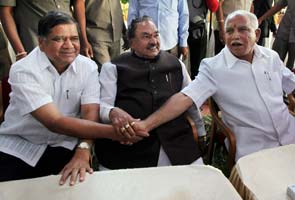 Bangalore:
Nitin Gadkari, the BJP president, is in Bangalore to take a few moral science lessons for his party colleagues in Karnataka during the two-day
Chintan Manthan
or brainstorming session of the party.
After the land scam, the illegal mining scam and then the recent porn scandal, it is time for retrospection for the party whose first government in the South has seen more controversies than achievements so far.
But even at a time when the party is holding the two-day meet in Bangalore, former chief minister and BJP strongman B S Yeddyurappa is adding to the woes of the party. Much against the central leadership's wish, Yeddyurappa wants to make a comeback as Chief Minister of Karnataka.
In a show of strength, Yeddyurappa mobilised a sizeable number of legislators at a meeting convened by him yesterday, apparently to exert pressure on the party's central leadership to reinstate him as chief minister. More than 50 BJP MLAs turned up at his residence.
Yeddyurappa also roped in Rural Development Minister Jagadish Shettar and Home Minister R Ashoka who were in the rival camp when he backed DV Sadananda Gowda to succeed him after being forced to quit as chief minister last August over his indictment in the Lokayukta report on illegal mining.
Yeddyurappa's "demonstration" took place as Mr Gadkari arrived in Bangalore last night for the meeting.
"We discussed the current political situation, on the coming Udupi-Chikamagalur Lok Sabha by-election and on strengthening the party organisation," the BJP's state unit president K S Eshwarappa told reporters, adding the issue of giving "position" to Yeddyurappa did not come up for discussion.
Party sources said a team of state BJP leaders would meet Mr Gadkari and brief him on the happenings in the party and the government.
It's no secret that Yeddyurappa has fallen out with Sadananda Gowda, who was hand-picked by him for chief ministership, as the latter was recently seen seeking to assert himself and coming out of Yeddyurappa's shadow.
"Sadananda Gowda should vacate the place in favour of Yeddyurappa. The state needs Yeddyurappa's leadership," MLA B P Harish, a staunch loyalist of the former chief minister, told reporters before the meeting.
Harish said Mr Gowda is giving an impression that he became an MLC because of JD(S), which had abstained in the by-poll apparently in support of the chief minister, and seems to be indebted to that party and not working for BJP's development.
According to sources, the style of functioning of Mr Gowda came in for flak, while some ministers complained in private that they were not being taken into confidence, and a few others pushed for a Cabinet expansion noting the vacant berths and Mr Gowda holding nearly two dozen departments.
Mr Gowda drove to the Race Course residence of Yeddyurappa, the venue for the meeting, for a brief while before flying to Mangalore to attend a function.
The BJP leaders, meanwhile, do not seem in any hurry to remove Yeddyurappa's successor, Sadananda Gowda. And they are unlikely to consider scam-tainted Yeddyurappa for the top job once again.
While his meeting was on, fresh summons were in fact issued to him by the Lokayukta court in a dubious land denotification deal - just one among several cases against him.
The BJP's first government in south India has had a turbulent time of it - something the
Chintan Manthan
will certainly try to address.