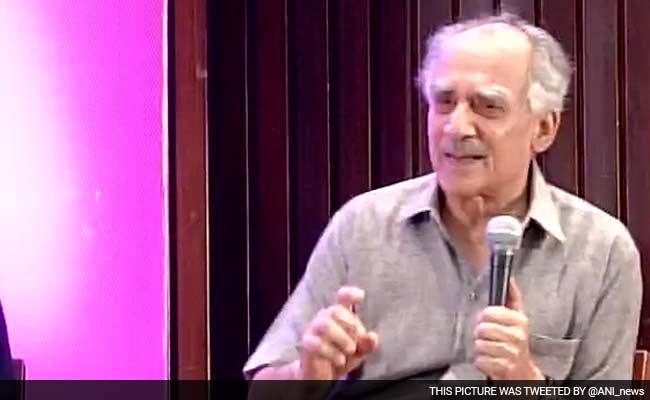 New Delhi:
The BJP today took a dig at Arun Shourie, a former party veteran, over his sharp criticism of Narendra Modi, saying he was unable to hear the Prime Minister because he had not learnt to listen to others and was being "carried away by emotions".
"The problem is not that Modi is not speaking. The problem is that Arunji is not listening. The day he learns to listen to others, he will stop talking like this," BJP spokesperson MJ Akbar said reacting to Shourie's sharp criticism of PM Modi over his "silence" on incidents of "intolerance" like Dadri mob killing and beef row.
Quoting PM Modi's statements on the issues, including an interview in a Bengali daily, Mr Akbar said that the Prime Minister had spoken several times on these controversies.
Asked why the one-time supporter of PM Modi and also former Union Minister in the previous NDA government had turned a critic, he told a press conference that Mr Shourie was "unable to see and listen in the darkness of his emotions".
Mr Akbar declined to elaborate, saying those who can understand will understand what he meant.
Several BJP leaders have alleged that Mr Shourie's criticism of the Narendra Modi government sprang from his not being given a ministerial berth.
Mr Shourie had yesterday accused PM Modi of deliberately maintaining silence on incidents like Dadri lynching while his ministerial and party colleagues kept the issue "alive" merely to win Bihar elections.
A 52-year-old man was killed in a mob attack for allegedly eating beef in Uttar Pradesh's Dadri on the night of September 28.