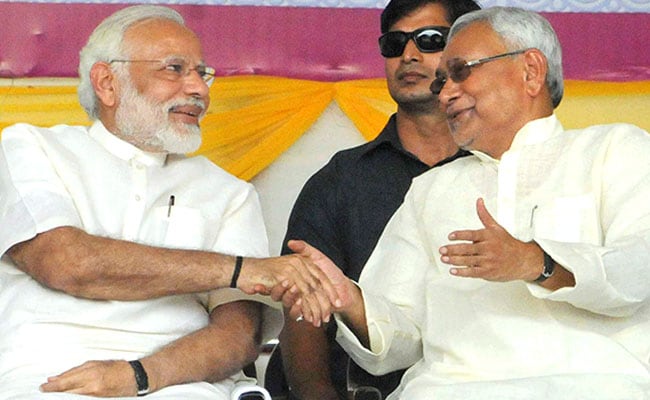 Highlights
Akali leader Naresh Gujral was the front-runner for the post
Now there has been a sudden shift to Harivansh Narayan Singh
Akali Dal is debating a way of sending a message across to BJP
New Delhi:
The BJP's last-minute choice of Nitish Kumar's party man for the post of Rajya Sabha deputy chairperson - seen as a peace offering to the upset Bihar ally -- has hugely irked another partner, the Akali Dal. For the longest time, Akali leader Naresh Gujral was the front-runner for the post. Now with the sudden shift to Harivansh Narayan Singh, the Akali Dal is debating a way of sending a message across to the BJP.
After a meeting at Union minister Harsimrat Kaur Badal's house on Monday evening, sources said Akali Dal is considering abstaining from Thursday's voting. A final decision will be taken on Tuesday.
In concrete terms, this is not expected to affect the outcome of the voting. The Akali Dal has three members in the 245-member upper house. With one seat vacant, any candidate needs 123 votes to win. An abstention will only bring down the magic figure.
The NDA, which has 110 members in the upper house including the Akali Dal, is counting on the support of Naveen Patnaik's party and K Chandrasekhar Rao's Telangana Rashtra Samithi. Between them, the two parties have 15 votes, which will give the NDA 125 votes. An abstention by the Akalis will bring down the tally to 122, but it would also lower the magic number to 121.
But politically, an upset ally in Punjab will be a blow to the BJP, which is working hard to reduce the strain on the alliance in Bihar.
Mr Kumar, who ended the Grand Alliance with Lalu Yadav and the Congress last July to partner with the BJP, has been passed over during the last cabinet reshuffle. His party was expecting a railway berth for RCP Singh. His request for special status for Bihar has made no headway. Seat sharing in the state remains unresolved, even though BJP chief Amit Shah made a quick visit to Patna last month to look into the issue.
Over the last week, the Janata Dal United has been hugely upset with the Governor's letter on the Muzaffarnagar child rapes, sent to Union minister Ravi Shankar Prasad and Patna High Court Chief Justice, besides the Chief Minister. On Sunday, the JD(U) reached out to Congress chief Rahul Gandhi, thanking him for not making a personal attack on the Chief Minister at a protest over the week-end.
Ahead of next year's general elections, the BJP has been trying to touch base with disgruntled allies. Party chief Amit Shah had been on a string of visits -- one of them to Shiv Sena chief Uddhav Thackeray. The Sena, however, had abstained from voting during the recent no confidence motion against the government, leaving the BJP seething.