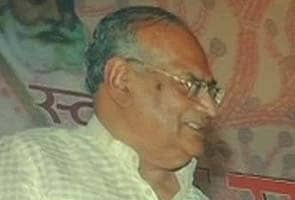 Bhopal:
Madhya Pradesh's Finance Minister has resigned after his domestic help accused him of sexual harassment.
A police complaint was filed this morning against 79-year-old Raghavji, a senior BJP leader in the state.
He was allegedly asked to quit by Chief Minister Shivraj Singh Chouhan.
Raghavji had been Finance Minister for nine years.
Sources close to him say that he feels the case against him is politically motivated and that the man who has accused him of sexual exploitation worked part-time for him, occasionally massaged the minister's arms and legs, and had quit a month ago.