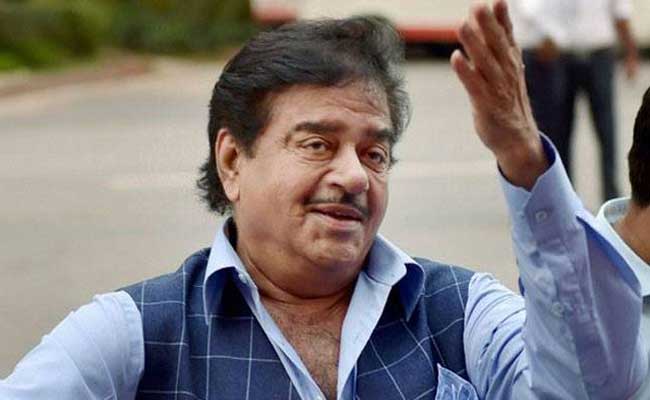 Highlights
BJP leader Shatrughan Sinha backs JNU student leader Kanhaiya Kumar
Sinha praised 'son of Bihar' Kanhaiya's speech as 'thought provoking'
Sinha's move being seen as yet another embarrassment for BJP
Patna:
Bharatiya Janata Party leader Shatrughan Sinha today supported Jawaharlal Nehru Students Union (JNUSU) president Kanhaiya Kumar, praising his speech that he delivered after being released from jail on six-month bail.
Mr Sinha dubbed Mr Kumar, who is facing sedition charges for participating in a JNU event held to commemorate the death anniversary of terrorist Afzal Guru, as "son of Bihar", who delivered a good and thought-provoking speech in the JNU campus after being released from Tihar jail.
He said Mr Kumar belongs to a poor family in a village in Bihar but proved that he has potential.
Earlier, Mr Sinha had expressed happiness when Mr Kumar was granted bail by the Delhi High Court. "Hope, wish and pray that he will prove himself worthy of the support that he received from everyone who felt he was wronged."
Unlike most of the BJP leaders, Mr Sinha said there was nothing wrong if Mr Kumar demanded azadi (freedom) from poverty, casteism, hunger besides his stand on freedom of expression under the rights provided by the Constitution.
Mr Sinha said he heard that several top leaders of the country, including Bihar Chief Minister Nitish Kumar, have lauded Mr Kumar and his speech.
In the last few months, Mr Sinha has openly expressed views that differ from the party line on issues such as "return of jungle raj" in Bihar to praising Mr Nitish Kumar around the state Assembly elections in which the BJP suffered an embarrassing defeat.
Mr Sinha's latest move is being viewed as yet another action causing embarrassment to the BJP.