Highlights
Ram Rahim "is a simple man so he is being harassed": Sakshi Maharaj
Ram Rahim convicted in rape case, flown to makeshift jail in Rohtak
30 killed, 250 injured in violence in Panchkula and Sirsa after verdict
New Delhi:
Self-styled godman
Gurmeet Ram Rahim Singh, held guilty of raping two women followers
by a court in Haryana's Panchkula today, found strong support in BJP lawmaker Sakshi Maharaj, who said the chief of the Dera Sacha Sauda sect is being "harassed." 30 people have died and 250 are injured in violence that erupted after the court's verdict, in Panchkula and in Sirsa, where the Dera is headquartered.
"One person has complained of rape against Ram Rahim. Crores others believe he is God. Who do you think is right?" Sakshi Maharaj said, alleging a "conspiracy to defame not only Ram Rahim and other saints, but also Indian culture."
The BJP member of parliament has also warned that "if even bigger incidents take place, court will also be responsible not just Dera people," saying, "There is so much of ruckus over it, law and order has been disturbed, people are dying...Shouldn't this be a consideration?" Ram Rahim, he said, "is a simple man so he is being harassed."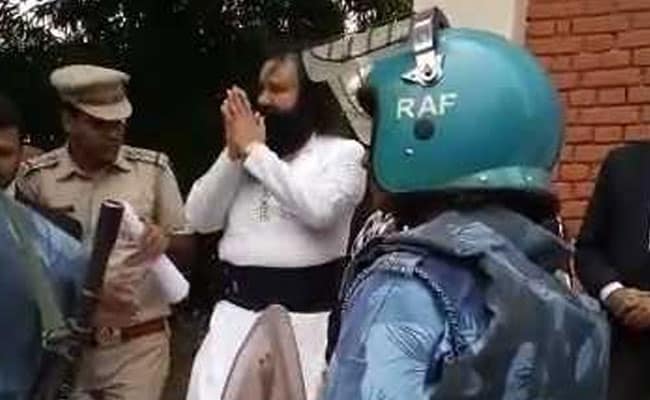 More than a lakh followers of
Ram Rahim
had gathered in Panchkula ahead of the verdict and as the court convicted the Dera chief, his supporters threw stones, smashed and burned vehicles and trains and clashed with police in the city, about 11 km from Chandigarh. The Army was called in to regain control of Panchkula and also in Sirsa, where too there were clashes and several buildings were set on fire.
Ram Rahim's followers also set fire to two train stations in Punjab and burned two buses and two train coaches in Delhi. The capital is on high alert and large gatherings have been banned in several areas.
The Dera chief was flown out by helicopter to Haryana's Rohtak where he has been lodged in a jail. He had arrived in Panchkula today in a 200-car convoy, traveling in bullet proof car from Sirsa. He will be sentenced on Monday.