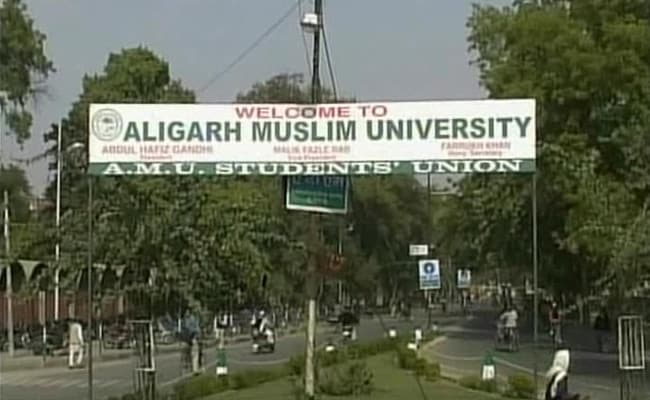 Aligarh:
The Aligarh Muslim University has written to Education Minister Smriti Irani warning of a potential "communal conflagration" in the campus over an event planned by local BJP activists on Monday.
In a sharply-worded letter, the university's Vice Chancellor Lt Gen Zameer Uddin Shah has opposed the local BJP unit's plan to mark the birth anniversary of Jat leader and freedom fighter Raja Mahendra Pratap within the campus on December 1.
The celebrations have "potential of leading to massive student unrest on the AMU campus," Mr Shah has written.
The Vice Chancellor met leaders of the BJP and its student wing Akhil Bharatiya Vidyarthi Parishad on Tuesday in what was described as an attempt to defuse the situation.
Mr Shah alleged that while the university had asked the BJP to shift its celebrations to a patch of land donated by the legendary freedom fighter near the campus, the party's activists had insisted on a venue within the campus, which, he said, would lead to a "confrontation".
"The majority of AMU students are annoyed with this intransigence," he told the minister.
Without taking names, the Vice Chancellor also expressed concern that a rival political party had announced that they would not allow the event. "This political gamesmanship, if allowed to proceed, has potential for serious trouble," he said, asserting that it would be "unwise" to go ahead with the event.
"AMU does not want to get involved in politics and the University needs your earnest support urgently as there is a serious threat to law and order," wrote the Vice Chancellor.
The BJP has accused the university of ignoring the contributions of Raja Mahendra Pratap, an alumnus who donated land to AMU.
"On the 1st, we will celebrate his (Raja Mahendra Pratap Singh's) birthday. If the Vice Chancellor wants to celebrate in AMU, I welcome it. If that's not the case, then the BJP has decided that we will celebrate the birthday within AMU... No doubt about it," said Satish Gautam, the BJP parliamentarian from Aligarh.
The new controversy comes days after the university faced searing criticism over its decades-old policy of not allowing some women students to use its main library. The ban has now ended, after a court order on Tuesday.