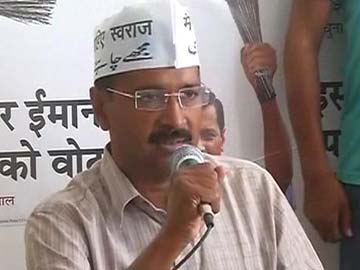 New Delhi:
The BJP has served a legal notice to Aam Aadmi Party chief
Arvind Kejriwal
, accusing him of "causing mental agony, harassment and defamation," by accusing the party of "horse-trading."
It has in its notice demanded Rs one crore in damages and says, "desist and restrain yourself from making false and unsubstantiated allegations forthwith."
Mr Kejriwal has made allegations - in radio ads and on Twitter - that the BJP is attempting to form government in Delhi by trying to "buy" the support of his party's MLAs. (
BJP Attempts To Form Next Government in Delhi: Sources
)
"Resultant of your aforesaid false and defamatory allegations which is being circulated extensively in the form of Twitter and prerecorded audio messages, BJP has suffered immense damage to its reputation and goodwill amongst the members of the society," the notice by BJP lawmaker RP Singh said.
While leaders of the Delhi BJP challenged Mr Kejriwal to furnish evidence to support what they called his "baseless" allegations, the party's former president and Union Home Minister Rajnath Singh said today, "With confidence I can say that the BJP has never engaged in horse-trading and neither will engage in the future."
Mr Kejriwal has been agitated for several days now over reports that the BJP plans to stake claim to form government in Delhi, which has been under President's Rule ever since he stepped down as Chief Minister after 49 days in power in February.
The AAP chief speculated in a series of aggressive tweets this morning whether Delhi's Lieutenant Governor Najeeb Jung would invite the BJP to form government on Thursday.
The BJP's Delhi chief Satish Upadhyay shot back, "If the LG doesn't call the BJP today will Arvind Kejriwal apologize to the citizens of Delhi for his tweet?"
Mr Kejriwal had sought to meet Delhi's L-G today, but sources in his party said Mr Jung had not agreed to meet them yet. (
In Race For Power in Delhi, Kejriwal Asks To Meet Lt-Governor
)
The BJP is reportedly waiting for Prime Minister Narendra Modi to return from his foreign tour to decide whether it will stake claim to form government. Mr Modi has left Brazil and will be in Delhi late tonight.
"We are ready for any eventuality, it is up to the Lieutenant Governor to take a call now," said senior leader Jagdish Mukhi, who, sources said, is likely to be Chief Minister if the BJP does form government in the capital.
Many in the Delhi unit of the party reportedly want to avoid fresh elections.