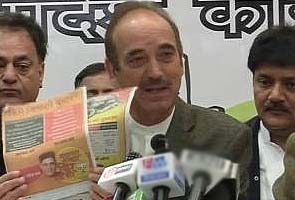 Shimla:
Newspaper advertisements are the latest bone of contention between the Congress and the BJP in poll bound Himachal Pradesh. Congress is crying foul over the advertisement the Dhumal government has put out to list its achievements during its tenure.
Addressing a press conference in Shimla, Union Health Minister Ghulam Nabi Azad came armed with a nine-page press release to show how the Dhumal government ads were misleading. He said, "The state govt has taken central schemes which are fully funded by the Centre and has plastered their logo and photos alongside to appropriate them as if they are their own. This is not only unfortunate but also immoral."
The Congress' 'grouse' list includes new hospital project in Baddi, a medical college-cum-hospital in Mandi, Rs. 767 crores released to the state under the National Rural Health Mission and even the policy of free medicines for which Rs. 10 crore has been released from the Centre. It also is miffed that the central govt's referral transport scheme, better known as 108 ambulance service is also being shown as an achievement of the Dhumal government. Mr Azad claims that 112 of these ambulances have been provided by the Ministry of Health and Family Welfare, Govt of India and an additional 32 ambulances have been sanctioned for the current fiscal.
The BJP, in response, claims these accusations are being made only to mislead the voters.
Speaking to NDTV in Hamirpur, Himachal Pradesh Chief Minister Prem Kumar Dhumal said, "This is not true. In fact we have put in more money over and above what the Centre has given. We had already announced free medicines scheme for patients as well. And it's in fact the Congress party that has appropriated schemes in the past. It picked up a scheme for rural electrification started by Atal Bihari Vajpayee and renamed it with Rajiv Gandhi's name calling it Rajiv Gandhi Gram Sadak Yojana."
In the war of words, as both sides go all out to prove a point to claim credit, it seems neither is keen to find out if the schemes that were launched, have indeed benefitted those they were meant for.