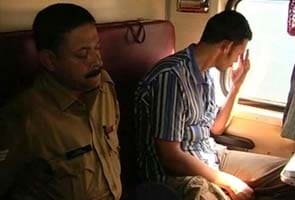 Mathura:
In a second-class AC coach, the man who insists he is not rapist Bitti Mohanty is being escorted on a two-day long journey from Kerala to Rajasthan by two sets of police officers.
He shares his compartment with a team of six cops from Kerala, where he was arrested last Friday. (
See: pictures from the train
)
In another coach is a group of police officers from Rajasthan, including one who identified the man in Kerala as the rapist he arrested in 2006 in Alwar.
Mr Mohanty, the son of a top-level police officer from Odisha, was sentenced to seven years in prison when he jumped parole. The police says he reinvented himself as Raghav Rajan, taught at a school in Andhra Pradesh, completed an MBA in Kerala, and was hired by a state-run bank. He was arrested after an anonymous letter warned his bosses at the bank where he worked that he was a much-wanted rapist.
He has denied the charges. In Rajasthan, his fingerprints will be checked against those on record in the German rape case.
The arrested man is not handcuffed; he does not speak to anyone. He sits by the window, occasionally holding his forehead and has preferred vegetarian meals. He got briefly flustered when some media teams tried to question him.
At the train station in Mathura, he was allowed to walk for a few minutes on the platform with his police escorts.